African-Americans, Latinos few among MLB managers
5/26/2016, 7:15 a.m.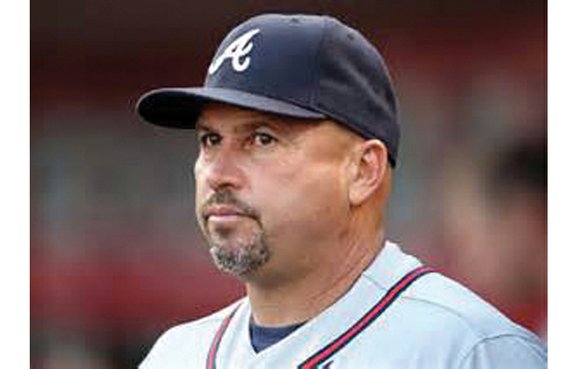 Talk about a discrepancy.
About 28.5 percent of the players in Major League Baseball (MLB) are Latinos, but there are no Latinos in the managers' offices, according to the Institute for Diversity and Ethics in Sports based at the University of Central Florida.
The Atlanta Braves' firing of manager Fredi Gonzalez  on May 17 leaves the big leagues without a Latino manager.
Gonzalez, who managed the Richmond Braves in 2002, was given the pink slip in Atlanta following a dreadful 9-28 start, due in part to the organization's decision to trade many of its established players for young prospects still in the minor leagues.
Overall, Cuban-born Gonzalez was 434-414 in five-plus seasons in Georgia.
Coincidentally, he was replaced by Brian Snitker, who managed the Richmond Braves in 2006. Snitker most recently served as the Braves' third base coach under Gonzalez.
According to the institute's figures, there were 10 managers of color in 2002 and 2010, the highest number in a single year.
Latino managers in the recent past have been Venezuelan Ozzie Guillen, Felipe Alou and Manny Acta from the Dominican Republic, Mexican Rick Renteria and Cubans Cookie Rojas and Preston Gomez.
Cuban born Al Lopez, aka "El Senor," managed Cleveland and the Chicago White Sox from 1951 to 1969 and is a member of the Baseball Hall of Fame.
Latinos, mostly from Cuba, the Dominican Republic and Venezuela, continue to make headlines for MLB on the field. A total of 23 Latino players were selected for last year's MLB All-Star Game in Cincinnati.
African-Americans also are under-represented in MLB administration positions.
There are just two African-American managers — Dusty Baker in Washington and Dave Roberts in Los Angeles — among the 30 franchises.
MLB has two African-American general managers — Dave Stewart in Arizona and Michael Hill in Miami — and two Latino general managers — Cuban Al Avila in Detroit and Mexican Jeff Luhnow in Houston.
There was a peak of five general managers of color in 2009 and 2010.
About 8.5 percent of MLB players listed on opening day rosters this year were African-American, the same percentage as in 2015.
MLB has a long history of players from Spanish-speaking nations.
The first Latino player reaching the majors was Colombian Luis Castro with the Philadelphia A's in 1902.