Diversity takes the field with Washington Nationals
9/7/2017, 11:14 p.m.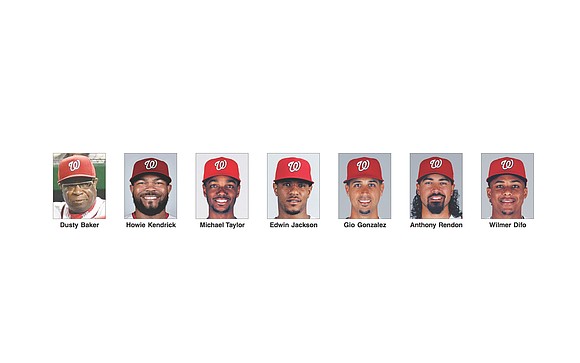 Like the cosmopolitan city they represent on the baseball diamond, the Washington Nationals are rich in diversity.
The District of Columbia becomes truly international on game days at Nationals Park, with players linked to five foreign countries and three continents. 
Better yet, the Nationals are contending for the city's first World Series title since 1924, a full 23 years before Jackie Robinson broke Major League Baseball's color line.
Success starts at the top at the ball yard located at 1500 S. Capital Street SE along the Anacostia River. Guiding the Nats' fortunes from the dugout is Dusty Baker, one of two African-American MLB managers. Dave Roberts of the Los Angeles Dodgers is the other.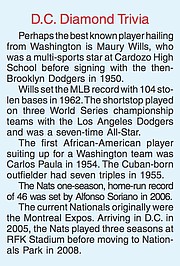 The unflappable Baker, famous for his ever-dangling toothpick, has the Nats in a commanding position in the National League East, despite a plague of injuries. Washington began its final month of the season with an 81-51 record and a 15-game lead over the Miami Marlins.
Baker's mix-and-match lineup, resulting from all the injuries, features All-Stars including right fielder Bryce Harper, second baseman Daniel Murphy and fireball hurler Max Scherzer. All are Caucasian.
Several African-American players also are wearing the "Curly W" logo. Among them:
• Howie Kendrick, 34. From Jacksonville, Fla., he came to the Nats in a trade with the Philadelphia Phillies on July 28; the versatile infielder-outfielder was an AL All-Star with the Los Angeles Angels in 2011.              
• Michael Taylor, 26. The Fort Lauderdale native possesses power, speed and size — he's 6-foot-4 — and looms as the star of the future at Nats Park.
• Brian Goodwin, 26. "B-Good" was a 2011 first round draft pick out of Rocky Mount; en route to Washington, he played at The Diamond for the Harrisburg Senators in Pennsylvania. 
• Edwin Jackson, 33. A military brat born in New-Ulm, Germany, he is among the most traveled players in MLB history, having played for 12 different teams.
The Nationals' Latino players include:
• Gio Gonzalez, 31. Born in Hialeah, Fla., to Cuban immigrants, he is a quality left-handed starting pitcher with a career record of 115-82, with 1,564 strikeouts.  
• Anthony Rendon, 27. A third baseman born in Richmond, Texas, of Mexican ancestry, he went 6-for-6 with three homers and 10 RBI against the N.Y. Mets on April 30. 
• Oliver Perez, 36. A native of Culiacán, Mexico, he is a left-handed relief pitching specialist; this journeyman has played with seven different teams.
• Wilmer Difo, 25. This shortstop/outfielder from the Dominican Republic has chosen such oldies as "Unchained Melody" and "My Girl" for his walk-up music.
• Jose Lobaton, 32. A switch-hitting backup catcher (behind Matt Wieters), he hails from Venezuela.
• Alejandro De Aza, 33. This left-handed, veteran from the Dominican Republic adds outfield depth.
The Nationals' first base coach is Dave Lopes, a former All-Star second baseman and league stolen base leader of Cape Verdean ancestry. 
There is diversity in Washington's future, too.    
The Nats' first- and second-ranked minor league prospects are outfielders Victor Robles and Juan Soto, both from the Dominican Republic.             
Should the team end Washington's long drought and reach baseball's fall classic in October, it really would be a "World Series."