Top of the class
5/26/2016, 6:45 a.m.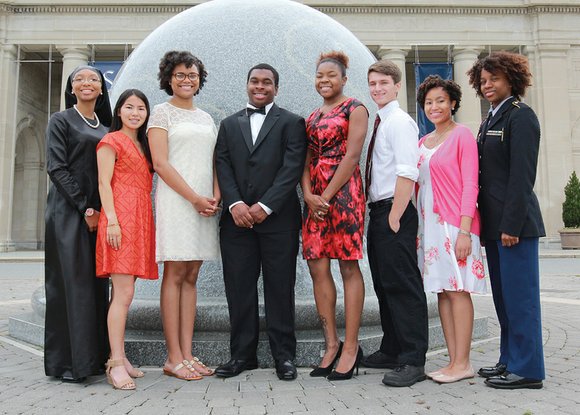 Richmond Public Schools is producing stellar students.
Want proof?
Just look at the Class of 2016's valedictorians.
The high-achieving students have a collective 4.4 GPA, earning more than $2 million in scholarships to pursue further studies at colleges across Virginia.
These top scholars were honored at the school system's annual Valedictorian Luncheon on Thursday, May 19, at the Science Museum of Virginia. The luncheon, sponsored by Capital One, included performances by students from Franklin Military Academy and a special video tribute.
Capital One also gave each of the scholars a laptop.
This year's valedictorians, and where they plan to matriculate in the fall, are:
Armstrong: Willie-Lee Triania Molle-Bette Young, 3.75 GPA, Virginia Commonwealth University.
Franklin Military Academy: Jocelyn Lee, 3.98 GPA, Hampton University.
Huguenot: Brooke Hunter, 4.41 GPA, James Madison University.
Thomas Jefferson: Natasha Coleman, 4.74 GPA, University of Virginia.
John Marshall: Stefan Woodson Jr., 4.5 GPA, University of Virginia.
Open High: Emma Silverman, 4.61 GPA, The College of William & Mary.
Richmond Community: Chris Gabbert, 4.93 GPA, Virginia Commonwealth University.
George Wythe: Regena Walker, 4.49 GPA, Virginia Commonwealth University.