Education advocate arrested in Richmond
11/4/2016, 5:57 p.m.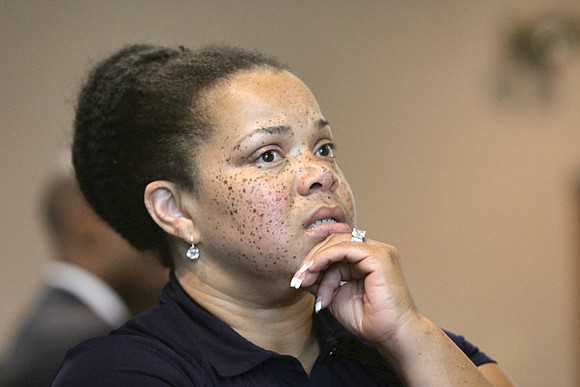 By Lauren Northington
Kandise Lucas, an advocate for children with special needs, was arrested on Tuesday, adding to her rap sheet.

Richmond police arrested Ms. Lucas at Blackwell Elementary School in South Side after she accompanied a parent to a meeting concerning development of an individualized education plan, or IEP, for her son.
This is the fifth time in the past year that Ms. Lucas has been arrested for trespassing on school grounds, and the first of such arrests in Richmond.
Ms. Lucas was arrested at a Henrico County public school in August and has been arrested three times while advocating for students at Chesterfield County public schools.
The Henrico charge was dismissed last month when the county school system declined to prosecute after intervention by the Henrico Branch NAACP.
Ms. Lucas was acquitted in two of the Chesterfield cases and has appealed her conviction in a third case in the county.
Under federal law, parents are allowed to choose advocates to accompany them to IEP meetings and serve as part of the student's IEP team during meetings with school administrators, according to the U.S. Department of Education.


On Tuesday, Ms. Lucas and Richmond School Board member Tichi Pinkney Eppes, 9th District, were at an IEP meeting at Blackwell Elementary at the invitation of Brenda James, whose son is a fifth-grader at the school. However, during the late-morning meeting, school officials restricted Ms. Lucas' comments and then called Richmond Police when she did not leave the building, Ms. James and Ms. Lucas said.
While Ms. Pinkney Eppes spoke with school and division administrators outside of the building, Ms. Lucas was placed in handcuffs and seated in the back of a Richmond Police Department Ford Explorer to "calm down," according to the arresting officer.
She was issued a summons on the trespassing charge and asked to leave school property.
Richmond Public Schools officials provided no comment by Free Press deadline Wednesday.
Tuesday's meeting at the school also included Wayne Scott, Blackwell's interim principal, and Thomas E. Kranz, assistant superintendent for support services.
Dr. Anthony Leonard, executive director of elementary education for Richmond Public Schools, arrived as Ms. Lucas was being escorted off the property by police.
Ms. James told the Free Press that her son has been suspended from school for more than 30 days since the school year began in September. She said on several days, Blackwell administrators asked her to pick up her son early because of disruptive behavior and fighting.
She said her son, who is 10, was diagnosed with ADHD and has an IEP and a one-on-one instructional assistant.

The instructional assistants, according to federal law, help students navigate new social settings, manage behavior and support small group instruction.
Ms. James said her son has had five different substitute instructional assistants since the school year started.
According to Ms. Lucas, RPS provides educational support services such as instructional assistants and in-school counseling through a contractor, Mending Fences.

She and Ms. James said they don't believe Ms. James' son is getting the services he needs.
Ms. James said she told the principal in Tuesday's meeting that he has to make sure her son "gets what he needs to get back in school — that he has the proper resources."
"He just wants to learn," Ms. James said.
She said she contacted Ms. Lucas and Ms. Pinkney Eppes last month after school administrators put off the IEP meeting because they didn't have their records together.
Ms. James' son watched as police wrote up the handcuffed Ms. Lucas as his mother stood nearby. The sound of his classmates at recess echoed across the school property.