Miss. church torched, vandalized with Trump graffiti receives support
11/11/2016, 11:12 p.m.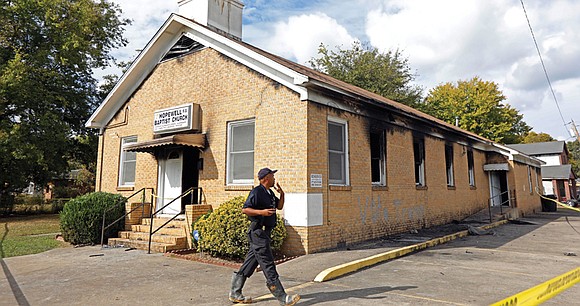 By Adelle M. Banks
Religion News Service
Two days after a black Mississippi church was torched and marked with "Vote Trump" graffiti, more than $180,000 has been raised to repair it.
Thousands of people pledged to raise money for Hopewell Missionary Baptist Church in Greenville, Miss., by Nov. 3, far exceeding the original goal of $10,000.
"When I ginned up this page before my first meeting at work today, I had no earthly clue it would get so big," writes J. Blair Reeves Jr., who organized the GoFundMe fundraising initiative last week. "Responses have been pouring in from all over the world, and they're truly extraordinary. Christians, Muslims, Jews, Hindus, atheists and many more — from all over the United States and many other countries."
The FBI said it is investigating the fire, which Greenville Fire Chief Ruben Brown Sr. said heavily damaged the church on Nov. 1.
Pastor Carolyn Hudson said the 200-member church hadn't received any recent threats, NBC News reported.
"Our church was a historic church that has been there for over 111 years," Pastor Hudson said. "This has left our hearts broken, but we are strong together. … Y'all continue to pray for us."
Republican Gov. Phil Bryant said last week: "First, anyone who burns a place of worship will answer to almighty God for this crime against people of faith. But they should also answer to man's law. Authorities are investigating and we expect a suspect will be identified and brought to justice."