Power moves
Uncertainty reigns as President-elect Trump prepares to take office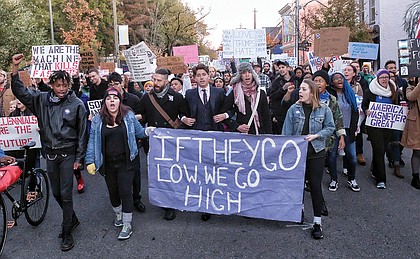 President-elect Donald Trump has jangled nerves with his unexpected Election Day victory and his appointment of a firebrand arch conservative, former Richmonder Steve Bannon, as his chief strategist.
Protests featuring chants of "Not my president" broke out in Richmond and other cities as disappointed supporters of defeated Democrat Hillary Clinton took to the streets in the days following the election to register their disapproval of the outcome.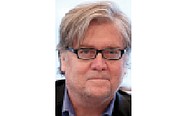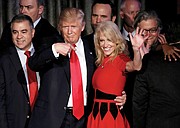 On Monday, thousands of students in Los Angeles and other cities walked out of schools to demonstrate against the appointment of Mr. Bannon, joining an array of critics in Congress and elsewhere who fear Mr. Bannon could lift the white nationalist movement and Ku Klux Klan sympathizers into the top levels of the Trump White House.

At the same time, Trump supporters went on their own rampage, with the FBI reporting more than 400 incidents of hate-filled attacks on African-Americans, Muslims and others.
Meanwhile, rumors and speculation continue to swirl as the transition from President Obama to President-elect Trump moves ahead.
Lies were Mr. Trump's verbal currency of choice during the campaign, and his comments since his election victory have swung back and forth, leaving uncertainty about the policies he intends to carry out.
Will he build a wall on the Mexican border? Destroy Obamacare? Privatize Medicare? Tear up international defense, trade, climate and nuclear agreements? Unleash police against African-Americans? Eliminate protections for children of illegal immigrants? Create a registry for Muslim Americans? Prosecute Mrs. Clinton?

For now, uncertainty also reigns when it comes to President-elect Trump's picks for his cabinet and other top posts, the people who will carry out whatever his policies prove to be.

So far, his only other pick has been his chief of staff, Washington insider Reince Priebus, chair of the Republican National Committee.
Uncertainty is the watchword surrounding his transition team that is helping the businessman and novice politician sort through the multiple choices for top posts.
Either the work is going "smoothly," as Mr. Trump asserted Wednesday or the transition is in a chaotic state, as various news media have reported, particularly following the surprise firings of former insiders. Among those getting the ax was New Jersey Gov. Chris Christie whom Vice President-elect Mike Pence replaced as transition chair.
Adding to the transition uncertainty are stories of foreign allies who have struggled to reach Mr. Trump and worries from political veterans who have seen the operation up close.
Meanwhile, there are worries about Mr. Trump and his sprawling business empire. While he has said he would turn over operations to his children to avoid a conflict of interest, questions remain about whether the policies he pursues will benefit his personal interests.
Reports that he has sought top security clearance for his children and a son-in-law who was a close confidante in his campaign — though denied by his transition team — are adding to the uncertainty about the incoming president.
President Obama, who will leave office Friday, Jan. 20, when Mr. Trump is sworn in, has urged calm and unity and advised his soon-to-be successor to do the same.
President Obama met with his successor last week and made that call then and at a White House press conference Monday, even though during the campaign he had railed that Mr. Trump was "unfit to be president."
"I've been encouraged by his statements on election night about the need for unity, his interest in being president for all people," President Obama said in stressing the need for a peaceful transition. "In an election like this that was so hotly contested and so divided, gestures matter.

"I did say to him, as I've said publicly," the president continued, "that, because of the bitterness and ferocity of the campaigns, it's really important to try to send some signals of unity and to reach out to minority groups or women or others that were concerned about the tenor of the campaign."
He also urged Clinton supporters to understand that the election is over.
"Look, the people have spoken," the president said. "Donald Trump will be the next president, the 45th president. And those who didn't vote for him have to recognize that's how democracy works."
Mr. Trump, who repeatedly bashed President Obama in seeking election, called him a "very good man" after their meeting and expressed interest in seeking his advice.
President Obama is optimistic Mr. Trump will govern fairly, despite a campaign in which he spewed hate and venom against women, African-Americans, the handicapped, immigrants and others.
In President Obama's view, President-elect Trump must and likely will adjust his temperament when he confronts the realities of his new job — a taste of which he is now getting during the transition.
The current president believes the freewheeling businessman will learn quickly that he cannot be as outspoken as he was during the long campaign if he wants to avoid unexpected consequences.
"This office has a way of waking you up," President Obama said. "Those aspects of his positions or predispositions that don't match up with reality, he will find shaken up pretty quick because reality has a way of asserting itself."
Still, he predicts Mr. Trump will be pragmatic and would avoid approaching the country's problems from an ideological perspective.
"There are going to be certain elements of his temperament that will not serve him well, unless he recognizes them and corrects them," President Obama said. "Because when you're a candidate, and you say something that is inaccurate or controversial, it has less impact," he said, "than it does when you're president of the United States.
"Everybody around the world is paying attention. Markets move."