'They kilt us, but they ain't whupped us yet'
Democrat Hillary Clinton defeated in one of nation's most stunning political upsets in history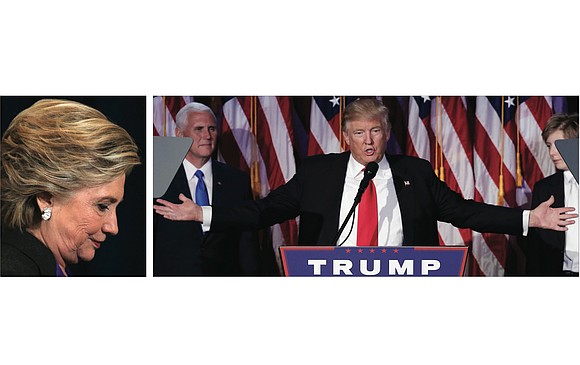 WASHINGTON
Emboldened Republicans claimed a mandate Wednesday for Donald Trump after his stunning election as the 45th president of the United States.
With results too close to call Tuesday night in several key battleground states, many people went to bed not knowing the election's outcome. But news reports broke about 2:45 a.m. Wednesday that Democrat Hillary Clinton had telephoned her Republican opponent to concede, acknowledging that he had garnered the required 270 electoral college votes to clinch the presidency.
Mr. Trump then took the stage about 3 a.m. to address hundreds of his jubilant supporters waiting at a victory rally in Manhattan. He said it was "time for America to bind the wounds of division."
"I pledge to every citizen of our land that I will be president for all Americans," he said.
It was an astonishing victory for the 70-year-old celebrity businessman and political novice who capitalized on voters' economic anxieties, took advantage of racial tensions and overcame a string of sexual assault allegations during a hard-fought battle to win the White House.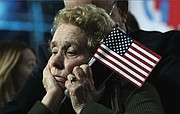 Mrs. Clinton, a former U.S. secretary of state and U.S. senator representing New York, told crestfallen supporters in a late-morning address Wednesday that the GOP victor deserved a "chance to lead."
President Obama pledged a smooth transition of power.
"We are now all rooting for his success in uniting and leading the country," President Obama said of the man who spent years questioning President Obama's birthplace and challenging the legitimacy of his presidency.
President Obama, who had declared Mr. Trump unfit for the presidency, invited him to the White House on Thursday.
Mrs. Clinton's emotions were raw as she addressed a crowd of supporters, eyes wet with tears, who gathered in a New York ballroom late Wednesday morning where she conceded the election.
Joined by her husband, former President Bill Clinton, and daughter Chelsea, Mrs. Clinton was introduced by her vice presidential running mate, U.S. Sen. Tim Kaine of Richmond.
"I'm proud of Hillary Clinton because, in the words of Langston Hughes, she has held fast to dreams," Sen. Kaine said, his eyes filled with tears. His wife, Anne Holton, the former Virginia secretary of education, was by his side. "She's been in battles before where, if it didn't go her way, she accepted it but then woke up the next day and battled again for the dreams that she's held fast to.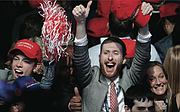 "I'll just say this: Hillary and I know well the wisdom in the words of William Faulkner. He said, 'They kilt us, but they ain't whupped us yet,' " he said to the applause of the crowd. "We know that work remains. We know that the dreams of empowering families and children remain … It is so comforting, even at a tough time, to know that Hillary Clinton is somebody, until her very last breath, who's going to be battling for the values that make this nation great and the values that we care so deeply about."
Taking the stage, with a row of American flags in the background, Mrs. Clinton said the crushing loss was "painful and it will be for a long time."