Primed for November
Primary winners Northam, Gillespie will carry Dem and GOP banners into gov. election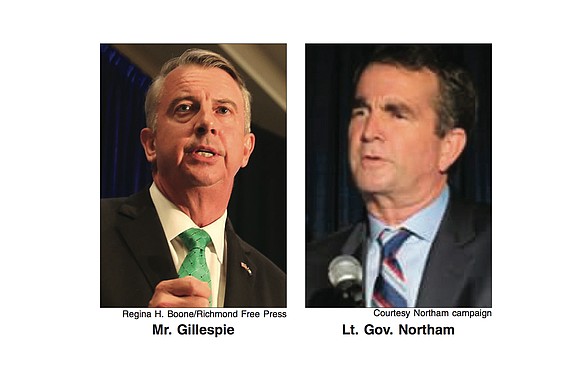 Virginia's next governor will either be Democrat Ralph S. Northam or Republican Edward W. "Ed" Gillespie.
The choice of the competitors was made by 900,000 voters who trooped to the polls Tuesday to cast ballots in the primary elections for both political parties.
The turnout — representing about 16 percent of the state's 5.4 million registered voters —was larger than observers expected.
Both men were the favorites to win their respective primary contests.
After four years of serving as the No.2 state leader to Gov. Terry McAuliffe, Lt. Gov. Northam had a much easier time winning the nomination than his GOP rival and appears more likely to have a united party behind him.
The 57-year-old pediatric neurologist and former state senator from Norfolk came into the Democratic primary leading in the polls.
And when the votes were counted, the results showed that he romped past his insurgent rival, one-term Congressman Tom S. Perriello, capturing 54 percent of the more 540,000 votes cast in the Democratic primary.
Mr. Perriello, who jumped into the race in early January in the wake of President Trump's election, carried the endorsements of two progressive icons, U.S. Sens. Bernie Sanders and Elizabeth Warren.
But he was hard-pressed to differentiate himself from Lt. Gov. Northam, who came into the race with a fatter campaign war chest, an equally strong progressive record on issues ranging from health care to gun control and the endorsements of virtually every elected official in Virginia.

Lt. Gov. Northam is eager now to turn to the general election set for Nov. 7 and keep Virginia's top elected office in Democratic hands.
"We're ready to fight," Lt. Gov. Northam told supporters at a post-election rally in Northern Virginia as he prepared to lead the Democratic ticket that will include newcomer Justin E. Fairfax as the lieutenant governor nominee and incumbent Attorney General Mark R. Herring, who sought a second term rather than challenge Lt. Gov. Northam.
In a sign of a unified party, Mr. Perriello already has embraced the ticket and pledged his support.
They will take on a Republican ticket representing a party that appears more splintered.

The Republican vote certainly confirmed the split between those who ardently support President Trump and those who do not.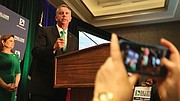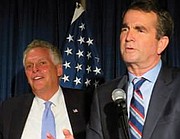 Like Lt. Gov. Northam, Mr. Gillespie, 55, a former Republican National Committee chairman and counselor to former President George W. Bush, came into the three-way GOP gubernatorial primary expecting to win, having picked up most of the endorsements and financial support.
However, Mr. Gillespie, who lost to U.S. Sen. Mark Warner in 2014, barely eked out a victory over Corey A. Stewart, President Trump's one-time Virginia campaign director.
More than 366,000 people voted in the contest. Mr. Gillespie, who drew scorn from Mr. Stewart for failing to embrace President Trump in his campaign, gained 43.76 percent of the vote to 42.5 percent for Mr. Stewart and 13.75 percent for the state Sen. Frank W. Wagner, according to unofficial results.

Mr. Stewart grudgingly conceded Wednesday to Mr. Gillespie. The state Department of Elections by then was reporting that with all precincts and absentee votes counted, Mr. Gillespie had a 4,609 vote lead over Mr. Stewart — a 1.26 percentage point margin that would bar a recount.