Dems bring out big names to get out vote
11/3/2017, 12:52 a.m.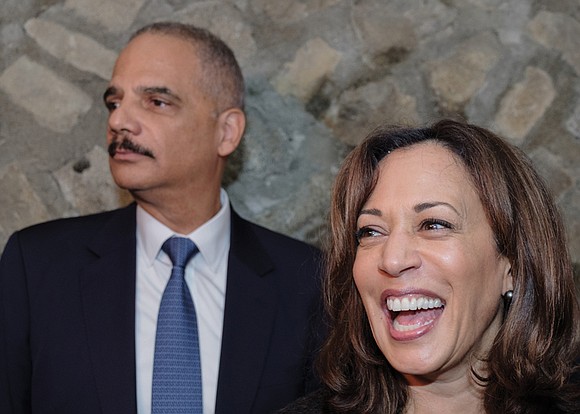 By Ronald E. Carrington
More than 150 Democratic supporters crammed into Blue Bee Cider in Scott's Addition on Sunday to hear former U.S. Attorney General Eric Holder and U.S. Sen. Kamala Harris of California campaign for Virginia's Democratic ticket for governor, lieutenant governor and attorney general.
The enthusiastic crowd roared with approval as the candidates and special guests arrived, shaking hands as they entered through a narrow corridor and offering "hellos" as they went through the crowd.
In a narrow race for leadership of Virginia for the next four years, the Democratic top guns fired up the crowd to help get out the vote for Ralph S. Northam for governor, Justin E. Fairfax for lieutenant governor and Mark R. Herring for attorney general.
"If you want a governor that will keep fighting for you, making sure the power of the office is on the side of the people, I need you to come out to vote," Mr. Holder said.
"We are taking the next days to use email, snail mail, to talk, to walk, to remind our family, friends and neighbors that this is a very important election and they need to show up at the polls.
"Whoever runs the states in this country really matter," Mr. Holder told the crowd. "They have an influence on all of the federal issues that have a concern for us."
"We are a great country, founded on the ideals that were present when our forefathers wrote the Constitution … the Bill of Rights — ideals that said we all should be treated like equals," Sen. Harris said.
But this election, she continued, "is at a time in our country's history when we have to look in the mirror and ask, 'Who are we?'
"Virginia has the fate of our country in its hands," Sen. Harris told the crowd. "This is a moment to say that we will stand up for all people. This is a moment where the leadership of the states, the great Commonwealth of Virginia, will make a huge, huge difference on what we need to do to get back on track" as a nation.
Next week's election in Virginia — one of only two states electing a governor this year — is seen as a referendum on the conservative policies of the Trump administration, many of which are supported by Republican gubernatorial candidate Ed Gillespie and the GOP ticket, and an early preview of next year's congressional midterm elections.
The latest round of polls show no clear winner or momentum, with neither Lt. Gov. Northam nor Mr. Gillespie consistently garnering above 50 percent. The Quinnipiac poll taken between Oct. 25 and 29 show Lt. Gov. Northam with 53 percent and Mr. Gillespie at 36 percent, with 3.5 point margin of error.
A Hampton University poll taken Oct. 18-22 shows Mr. Gillespie at 41 percent, while Lt. Gov. Northam is at 33 percent. That poll has a 4.2 point margin of error.
Both political parties are using the final days of the campaign to bring big names to Virginia to stump for the candidates. Former President Obama campaigned for the Democratic ticket on Oct. 19 at a rally in Richmond, while former President George W. Bush appeared at fundraisers for Mr. Gillespie in Alexandria and Richmond on Oct. 16. Vice President Mike Pence also campaigned for the Republican ticket in Southwest Virginia on Oct. 14.
U.S. Sens. Marco Rubio of Florida and Rob Portman of Ohio also have come to the commonwealth to campaign for Mr. Gillespie, while U.S. Sen. Cory Booker of New Jersey stumped in Northern Virginia on Wednesday with Lt. Gov. Northam.

Appearing with Sen. Harris and Mr. Holder at Sunday's rally in Richmond were Mr. Fairfax and Mr. Herring. Lt. Gov. Northam, who attended services at two African-American churches on Sunday in Roanoke, was campaigning in the Shenandoah Valley.
With African-Americans making up roughly a fifth of the Virginia electorate, the Democratic candidates have been working to rally their base.
State Sen. Jennifer L. McClellan of Richmond challenged the crowd "not to be complacent" and to take "five to 10 friends" to the polls "to seal the victory on Nov. 7."