Reunited and it feels so good
Former President Obama energizes Va. Dems at rally
10/27/2017, 5:47 a.m.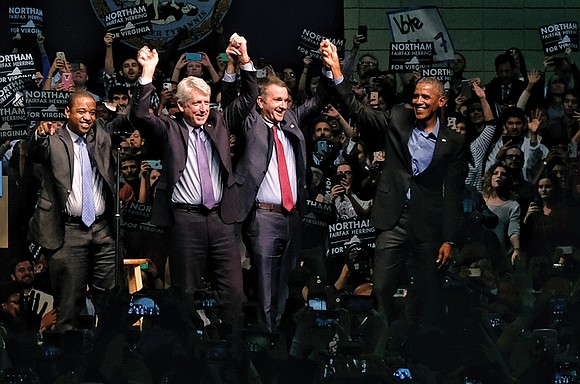 By Saraya Wintersmith
Former President Barack Obama told a packed audience at the Greater Richmond Convention Center the fate of American politics rests within their vote on Tuesday, Nov. 7.
"The question for you tonight, and over the next 19 days, is do you want a politics of division and distraction? Or do you believe in a better kind of politics, one where we work together and listen to each other," President Obama said to loud cheers and applause.
Thousands turned out to hear President Obama on Oct. 19, as he stumped at the Downtown venue for Democratic gubernatorial candidate Ralph Northam.
He also urged voters to support the statewide Democratic ticket, including Justin Fairfax for lieutenant governor, and the re-election of Mark Herring for attorney general, as well as the dozens of Democrats seeking election to the Virginia General Assembly.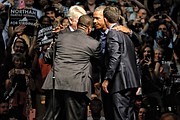 "You've got really good candidates. You've got people who will make you proud," he told the adoring crowd after characterizing Lt. Gov. Northam as a genuine and trustworthy public servant.
"The question now, at a time when our politics just seems so divided and so angry and so nasty, is whether we can recapture that spirit — whether we support and embrace somebody who wants to bring people together. Yes, we can."
The crowd roared the former president's campaign slogan, "Yes, we can," in response.
With less than three weeks to Election Day, state Democrats enlisted the help of the nation's first African-American president, who is still hugely popular, to energize Virginians on Lt. Gov. Northam's behalf.
In a lively speech before President Obama's appearance, the Democratic candidate stirred the rally-goers with a call to action.
"It's gonna be a fight, it's not a cakewalk," Lt. Gov. Northam said.
"I have fought during Desert Storm to keep our soldiers alive. I have fought on the floor of the Senate. I have fought as your lieutenant governor. And I'm ready to fight for you as the 73rd governor of the Commonwealth of Virginia. But I can't do it by myself," he said of the upcoming election. "Are you ready to fight with me?"
The crowd cheered.
Ernestine Wilson, 71, and Joyce Roberts, 73, were inspired to make the 30-plus minute drive from Petersburg to see the former president at the Richmond rally.
"This has been one of the most unforgettable nights of my life and I'm just so thankful to have had the opportunity to be here and hear that wonderful speech," Ms. Roberts said. "With so much division and negativity that's going on, I think we needed this."
Ms. Wilson reached into her handbag and pulled out her smartphone on which she had taken notes during President Obama's speech.
"My favorite part," she said, "was when Obama said 'The most important office in our country is that of citizen.' "
The pair brought to the convention center Ms. Wilson's daughter and granddaughter. They said they hoped President Obama's remarks and those of Lt. Gov. Northam would get people to turn out at the polls.