Make it count
6/9/2017, 11:05 a.m.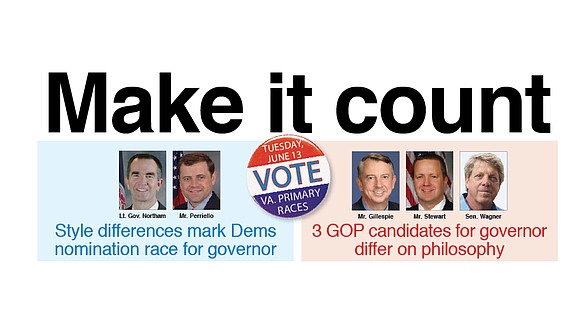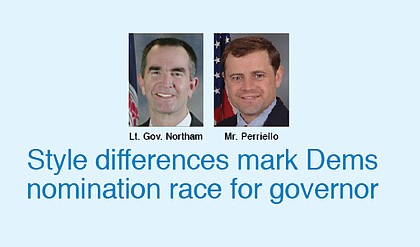 Style differences mark Dems nomination race for governor
By Jeremy M. Lazarus
It looks like 2016 all over again in the Democratic primary as voters prepare to decide whether Lt. Gov. Ralph S. Northam or former Congressman Tom S. Perriello will carry the party's banner into the November race for governor.
Last year, Hillary Clinton, with the backing of the Democratic establishment, battled Bernie Sanders, the darling of the party's left wing, for the presidential nomination.
This time, Virginia's Democratic Party establishment is backing Lt. Gov. Northam, 57, while the Sanders camp is pushing Mr. Perriello, 42, who projects the charisma and appeal that his rival appears to lack.
The Clinton-Sanders contest exposed the fault line between the populist wing and the centrist wing of the Democratic Party.
That same fault line is evident in the tight race between Lt. Gov. Northam, a pediatric neurosurgeon, and the former one-term congressman who was the only member of the U.S. House of Representatives that President Obama campaigned for in 2010.
Mr. Perriello lost his seat for backing the Affordable Care Act. He was swept out of office on a Republican backlash to the former president's major health care reform bill.
Where African-American voters stand is unclear. Virtually the entire membership of the Virginia Legislative Black Caucus is backing Lt. Gov. Northam, for example, but whether such endorsements will translate into votes by the rank and file remains to be seen.
On the issues — from health care to education to prison reform — Lt. Gov. Northam and Mr. Perriello appear to have few differences. Indeed, the main difference appears to be style.
Lt. Gov. Northam has a more limited voice that makes it more difficult for him to command a big crowd, which is where Mr. Perriello shines.
Those who know Lt. Gov. Northam like him and the stands he has taken for gun control, for limiting smoking in public places and for supporting gay marriage. But they also wish he was more like the extroverted Democratic Gov. Terry McAuliffe.
Mr. Perriello heard those mutterings of discontent and entered the race on Jan. 11, disrupting what looked like a free run to the nomination for Lt. Gov. Northam.
Party regulars had hoped that Lt. Gov. Northam would be able to spend the spring shoring up Democratic support and raising the money needed to take on the likely Republican candidate, Edward W. "Ed" Gillespie, the former Republican National Committee chairman.
Both Lt. Gov. Northam and Mr. Perriello have sought to tap into the anger that Democrats feel about the 2016 election victory of President Trump and the many policy changes he is seeking to overturn longstanding health and environmental polices.
Lt. Gov. Northam calls the president a "narcissistic maniac" in one television ad, while Mr. Perriello is shown in his ad standing in front of an ambulance getting crushed by a compactor, which he called a metaphor for what the president and Republicans are seeking to do to health care.
Still, Mr. Perriello remains the underdog, with a smaller campaign war chest. And there is little evidence that he has begun peeling away supporters of Lt. Gov. Northam.