It's a sweep!
Virginia elects Democrats to top posts, other offices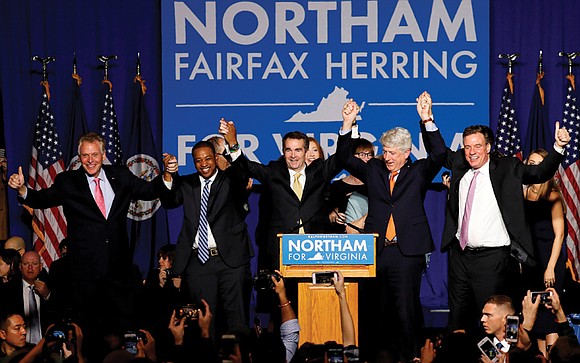 Take that, Donald Trump.
In a result seen as a wholesale rejection of a president many see as unfit, and a message to the political party that has backed him, fired up Virginia voters ensured Democrats retained control of the top tiers of state government and replaced at least a dozen seasoned Republican lawmakers in the General Assembly to boot.
The big winners of Tuesday's general election include Gov.-elect Ralph S. Northam, the bland, mild-mannered pediatric neurologist and current lieutenant governor who surprised many by handily winning the race to succeed current Democratic Gov. Terry McAuliffe.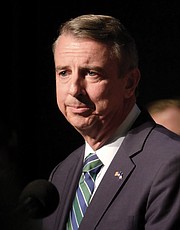 Along with Dr. Northam, voters also elected his Democratic ticket mate Justin E. Fairfax as the second African-American lieutenant governor in Virginia's history and re-elected Democrat Mark R. Herring as attorney general.
Dr. Northam won the keys to the Governor's Mansion after decisively defeating Republican nominee Ed Gillespie by a vote of 1.46 million votes, or 53 percent, to about 1.17 million votes for Mr. Gillespie.
Mr. Fairfax, who called for increasing access to health care, raising the minimum wage and expanding job training, defeated GOP state Sen. Jill Vogel by nearly the same margin.
And Mr. Herring, who won by only a handful of votes four years ago, also had no problem defeating Republican challenger John Adams by a wide margin.

The victory was even sweeter as Democrats surprisingly won 15 more seats in the House of Delegates to claim a total of 49 seats, moving them closer to retaking control of the 100-member chamber from Republicans who have used their majority to block expansion of health care.
Turnout was the key to the Democratic sweep. Unofficial results indicate about 500,000 more people turned out to vote in this year's statewide contest. Overall, about 47 percent of the state's 5.4 million voters turned out, up from 42.7 percent four years ago.
University of Richmond law professor Jonathan K. Stubbs said the election showed that "Democrats were more energized than some appeared to think in the waning moments of the campaign."
While Trump foes turned out in large number, Mr. Stubbs said the legions in Virginia who backed President Trump in the November 2016 presidential race failed to show the same enthusiasm for Mr. Gillespie.
Mr. Stubbs and others credited President Trump and the hostility he has created with generating the extra Democratic enthusiasm, although the results followed Virginia tradition in which the party that holds the White House loses the governorship. Gov. McAuliffe, who won in 2013 when President Obama was re-elected, was the only person in the last 10 elections to buck that tradition.
Still, the results suggest that voters wanted to send a message, said Stephen J. Farnsworth, a University of Mary Washington political science professor.
"This was really an extraordinary rebuke of Donald Trump and all he stands for," Dr. Farnsworth said.
President Trump is highly unpopular in the state, he said, with polls showing the president's approval rating in Virginia hovering around 34 percent.
In Dr. Farnsworth's view, the Gillespie campaign's decision to go all in "on a Trump-style advertising campaign really hurt him. He campaigned, at least in his ads, like Donald Trump and was punished for it."