Breakfast with Bernie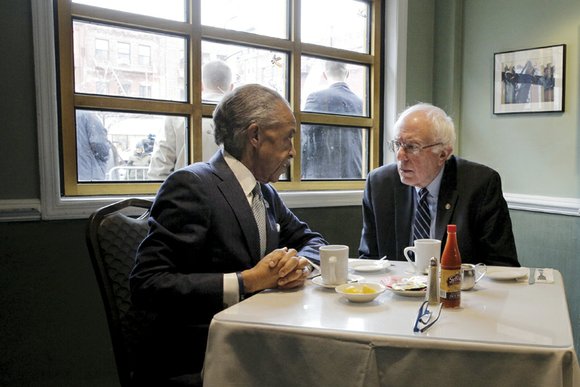 Bernie Sanders had breakfast in New York with the Rev. Al Sharpton just hours after trouncing Hillary Clinton in the New Hampshire Democratic presidential nominating contest Tuesday.
His meeting with the iconic civil rights leader marked the recognition by Mr. Sanders that his campaign must swiftly broaden its base of support if he has any chance of mounting a long-term challenge to Mrs. Clinton, who consistently polls better among African-American voters.
African-American voters will play a crucial role in the Democratic race as it moves to South Carolina — where more than half of the Democratic primary voters in 2008 were African-American — and other states more diverse than New Hampshire or Iowa, which held the first contests of 2016.
As expected, Mr. Sanders easily beat Mrs. Clinton in New Hampshire, which is a neighbor to his home state of Vermont, gaining 60 percent of the vote to her 38 percent. It was the largest margin of victory in the history of the New Hampshire primary.
It was a strong rebound for Mr. Sanders, who lost by less than a percentage point to Mrs. Clinton in the Iowa caucuses last week.
Mr. Sanders then flew to New York City to meet Rev. Sharpton at Sylvia's Restaurant, the same Harlem eatery where the activist met with President Obama during his 2008 presidential campaign — an obvious bit of symbolism for the Vermont senator trying to connect with minority voters.
"My concern is that in January of next year for the first time in American history a black family will be moving out of the White House. I do not want black concerns to be moved out with them," Rev. Sharpton, a Baptist minister and television talk show host, told reporters afterward.
Rev. Sharpton discussed nationwide police shootings of black males and other issues with the senator. He said he would not endorse a candidate until he met with Mrs. Clinton.
Even before the exit polls showing that Mr. Sanders had won New Hampshire, Mrs. Clinton's campaign already was trying to highlight her double-digit lead over Mr. Sanders among African-American and Latino voters.
"It will be very difficult, if not impossible, for a Democrat to win the nomination without strong levels of support among African-American and Hispanic voters," Clinton campaign manager Robby Mook said in a memo sent to reporters.
He predicted the Democratic race would be won in March, when it quickly expands to 22 delegate-rich states with some of the largest minority and urban populations — and that Mrs. Clinton would have the advantage. That includes Virginia, which will hold its presidential primary March 1.
President Obama won two presidential terms aided by the overwhelming support of African-American voters in Virginia, where he netted well over 90 percent of the votes cast.
Mr. Sanders knows he will have to gain a strong share of support from African-Americans and other minority voters if he is to top Mrs. Clinton, who has a long history of support for civil rights. She also has benefited from husband Bill Clinton's popularity in the black community during his presidency, although that became strained during the fierce 2008 primary battle with President Obama.
Reuters/Ipsos polling nationally showed that in January, African-Americans backed Mrs. Clinton by a margin of 3-to-1 over Mr. Sanders. Among Hispanics, 48 percent supported Mrs. Clinton and 32 percent backed Mr. Sanders.
Mr. Sanders already has intensified his efforts to reach black voters with more campaign stops before African-American audiences and ads on black-oriented radio stations. Rapper Killer Mike sometimes introduces Mr. Sanders at rallies, and academic Cornel West also has campaigned for him. He also has been endorsed by Ben Jealous, former president and CEO of the national NAACP.
Donald Trump registered his first primary victory in New Hampshire after losing to U.S. Sen. Ted Cruz in Iowa. He won 35 percent of the vote, while Ohio Gov. John Kasich breathed new life into his populist campaign when he finished second with nearly 16 percent of the vote.
Mr. Trump figures to be scrutinized more closely now after the GOP field narrowed from seven to five candidates Wednesday. New Jersey Gov. Chris Christie and former Hewlett-Packard chief executive Carly Fiorina dropped out of the race due to poor primary showings.