Election Day less than smooth for local voter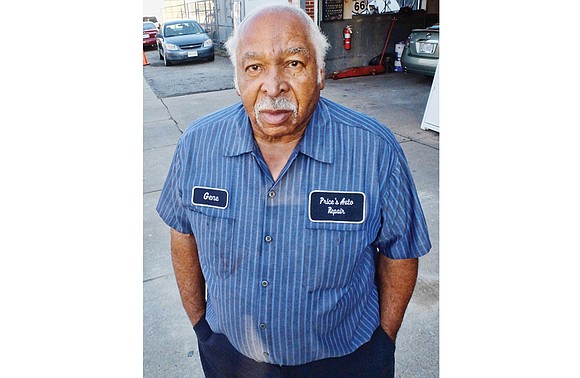 Eugene M. Price finally has been told his vote will count, six days after the Nov. 8 election.
The 73-year-old Richmond auto mechanic said Monday he got a call from the city Voter Registrar's Office telling him that the provisional ballot he cast was accepted and would be included in the city's total vote after it was determined that he was properly registered to vote and that his name should have been on the voter rolls.
For Mr. Price, it was vindication for the hours he spent on Election Day struggling to vote after learning his name somehow had been removed from the list of registered voters at Richmond's Precinct 301 at John Marshall High School.
"I've voted in every election since 1993, when Gov. (L. Douglas) Wilder restored my right to vote," said Mr. Price, who owned and operated a repair shop in North Side for 34 years before suffering a mild heart attack and closing the shop a few months ago.

While his case appears to be unusual, it is an example of the problems that cropped up on Election Day.
"It's been very distressing to deal with this," Mr. Price said. "I had two people ask me how I could notarize their papers if I couldn't even vote. I had to go see my doctor to make sure I wasn't having another heart attack because I had this pain in my chest."
Mr. Price said he went to vote about 9 a.m. Tuesday, Nov. 8, but was turned away after election officials told him his name was not on the voter rolls.
He said when he protested and showed the voter card he has carried since 2012, the chief election officer at the precinct called the Voter Registrar's Office in City Hall for guidance.
"She said she was told that I couldn't even vote a provisional ballot," said Mr. Price.
He said he started dialing anyone he could think of who might help. He reached a staff member at the state Department of Elections who intervened. With the state staffer's help, the city's ruling was reversed and Mr. Price was able to cast a provisional ballot.
While he cast the ballot around 2:45 p.m., he was told he would have to bring evidence to the city registrar's office the next day to show he was eligible.
He said spent two hours at the office before being told provisional ballots would not be dealt with that day.
Voter Registrar Kirk Showalter said she is barred by state law from discussing Mr. Price's situation. However, she said provisional ballots are checked to determine if they should be counted without additional evidence.

"If someone's registration was mistakenly removed, that would be corrected and the provisional ballot would be counted," she said.
Ms. Showalter said other people were turned away from city polls because they were not registered.
That included some felons who had registered to vote after Gov. Terry McAuliffe restored their rights last May. Apparently, they may not have realized their initial registration was revoked by the Virginia Supreme Court in late July and failed to re-register to vote after Gov. McAuliffe restored their rights for a second time in mid-August.