10 young men presented at AKA's PROC Beautillion
11/24/2016, 10:54 a.m.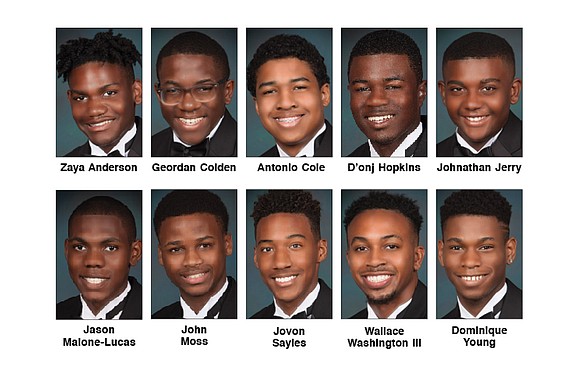 Ten young men were presented at the 22nd Annual PROC Beautillion on Saturday, Nov. 19, at the Greater Richmond Convention Center.
This year's theme: "Our Time to Lead."
Since 1995, the Pi Rho Omega Chapter of Alpha Kappa Alpha Sorority's fundraising arm, Professionals Reaching Out to the Community Foundation, has been preparing young men for future success.
"When we got started in 1995, there was no one in the region who was doing a structured beautillion for young men," says Brenda J. Foster, co-chair of the Beautillion, a black-tie affair.
"We do feel strongly that the young men are getting a lot from the program," she said. Many of the participants during the last 22 years have completed college and now have professional careers, she said.
Beautillion participants are high school juniors and seniors. To participate, they must be recommended by a teacher or school administrator and a community representative.
This year's participants completed an eight-month enrichment program that included business and social etiquette classes, golf lessons at First Tee of Chesterfield and several community service activities.
Participants completed personal growth workshops, including "Understanding Your Pathway to Manhood" and "Tied to Greatness."

They also participated in The Infinite Scholars' program sponsored by the Richmond Alumnae Chapter of Delta Sigma Theta Sorority.

This year's program culminated with the formal 2016 Beautillion, where Johnathan Anwar Jerry was crowned the king Saturday night. The first runner-up was John Alexander Moss. Both received awards of educational scholarships.
Geordan Isaiah Colden, who excelled academically during the eight-month program, was awarded a book scholarship.
The 2016 Beautillion participants:
• Zaya Phillip James Anderson, a junior at Varina High School, son of Mr. Phillip Anderson and Ms. Robin Ballard. His escort was Lauren Ramon Craig.
• Geordan Isaiah Colden, a senior at George Wythe High School, son of Mr. and Mrs. Eugene Colden. His escort was Chelsea Olivia Logan.
• Antonio Damon Cole, a junior at Henrico High School, son of Mr. and Mrs. Alan J. Foster Jr. and Mr. Jurl A. Cole. His escort was Justis Mi'Kaela Carter.
• D'onj Davion Hopkins, a senior at Manchester High School, son of Ms. Dawnsherra Coe. His escort was Megan Ashley Farrar.
• Johnathan Anwar Jerry, a junior at Meadowbrook High School, son of Ms. Aquwanda L. Sherrill and Mr. Johnathan E. Jerry. His escort was Jayla Renee Parker.
• Jason Avery Nathaniel Malone-Lucas a senior at Franklin Military Academy, son of Dr. Olaniyi Lucas and Mr. Jason Malone. His escort was Avery Elise Edwards.
• John Alexander Moss, a junior at J.R. Tucker High School, son of Mr. and Mrs. Tony Moss. His escort was Eryn Gazelle Carlisle.
• Jovon Pavin Sayles, a junior at Benedictine College Prepatory, son of Dr. Cheryl Sayles and Rev. Harold Sayles. His escort was Destyni L. Hubbard.
• Wallace Vernon Washington III, a senior at Monacan High School, son of Mr. and Mrs. Wallace Vernon Washington Jr. His escort was Khasia Imani Vaughan.
• Dominique Michael Young, a junior at Meadowbrook High School, son of Ms. Veleka A. Hall-Young and Mr. Kim M. Young Jr. His escort was Baiyinah A. Fleming.