AKA's PROC Beautillion to present 7
11/17/2017, 8:39 p.m.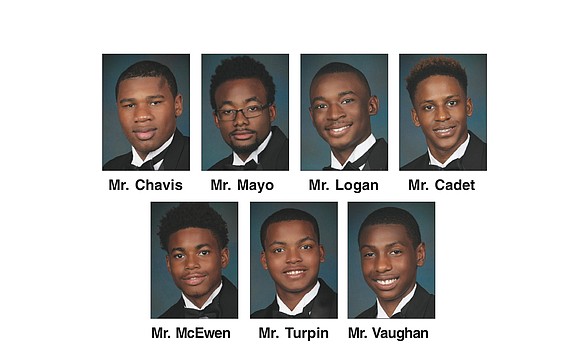 Seven young men will be presented at the 23rd Annual PROC Beautillion on Saturday, Nov. 18, at the Greater Richmond Convention Center.

This year's theme: "Gentlemen in the Making: Scholarship, Leadership and Service."
Since 1995, the Pi Rho Omega Chapter of Alpha Kappa Alpha Sorority's fundraising arm, Professionals Reaching Out to the Community Foundation, has been preparing young men for future success.
Participants, all high school juniors and seniors who have been recommended by a teacher or school administrator and a community representative, participate in a variety of educational, social and cultural experiences during an eight-month program. 
Participants also have an opportunity to earn scholarships and book awards for college. 
The 2017 Beautillion participants:
• Widmark "Justin" Cadet Jr. a junior at Guardian Christian Academy, son of Dr. and Mr. Widmark Cadet. His escort is Jalyn Deneice Winston.
• Carson Maurice-James Chavis, a junior at Hanover High School, son of Ms. Marcia Campbell-Chavis and the nephew of Dr. James A. Campbell Jr. His escort is Madison I. Gardner.
• Tarique Deshawn Logan, a junior at Appomattox Regional Governor's School, nephew of Mr. Terrance Logan and grandson of Ms. Louise Logan. His escort is Tegan Ann'Trenae James.

• James Christian Mayo, a senior at Glen Allen High School, son of Ms. Shandra Solomon and Mr. Craig Mayo. His escort is Malia Isabella-LaFon Chavis.
• DeAndre Rayshawne McEwen Jr. a junior at Meadowbrook High School, son of Ms. Nancy C. Jones and Mr. DeAndre McEwen. His escort is Nevaeh Aundrea Holmes.
• Robert Augustus Turpin IV, a junior at Lee-Davis High School, son of Mr. and Mrs. Robert Turpin III. His escort is Halie A. Fox.
• Jordan Christopher Vaughan, a senior at Clover Hill High School, son of Mr. and Mrs. Michael C. Vaughan. His escort is Kendyl Marie Berry.
The application deadline for next year's Beautillion is March 31.
For information and application details, contact Brenda J. Foster at beautillion@procfoundation.org or (804) 740-6162.