Lt. Col. Linda M. Washington, former chief of medical services for the 113th Air Wing, dies
10/7/2016, 7:31 p.m.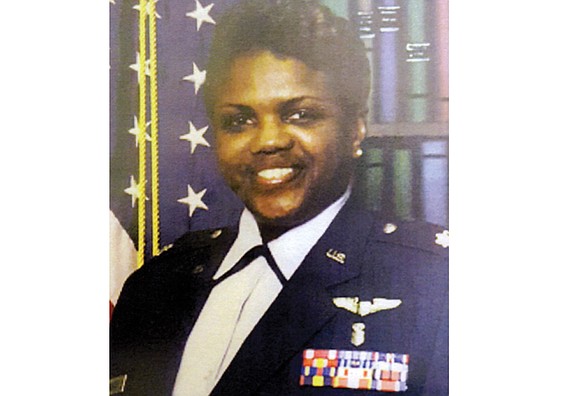 Lt. Col. Linda Marlene Washington left Richmond to make history as a military doctor.
In 1988, the intrepid physician became the first female flight surgeon in the District of Columbia Air National Guard, also known as the 113th Wing.
Twice deployed during combat, Lt. Col. Washington would rise to command the wing's medical services before retiring in 2005 after 30 years.
She then worked in emergency medicine at a Baltimore hospital until 2009, when she returned to the Richmond area to be closer to her family because of illness.
Her commitment and dedication is being remembered following her death Tuesday, Sept. 20, 2016, in Mechanicsville from complications from a stroke. She was 60.
Family and friends celebrated her life during a service Tuesday, Sept. 27, at her home church, Ebenezer Baptist in Jackson Ward.
The Richmond native earned her medical degree in 1983 from Meharry Medical College in Nashville, Tenn., after graduating from Huguenot High School and earning her undergraduate degree in biology at James Madison University.
While completing her medical residency at D.C. General Hospital, she began her military career in 1985, when she was commissioned as a captain in the D.C. Air National Guard.
Initially a general medical officer at an Air Force hospital, Lt. Col. Washington expanded her career by completing the Aerospace Medicine Primary Course to earn her credentials as a flight surgeon in 1988. She was the first female flight surgeon with the National Guard unit, according to her family.
She later added to her credentials when she became board certified in internal medicine and was certified as a medical examiner for the Federal Aviation Administration.
Six years after joining the Air Guard, she went into combat with the 113th Medical Group in 1991 during Operation Desert Storm and Desert Shield that threw Iraqi forces out of Kuwait.
In 1998, she was involved in providing medical services when the 113th Wing participated in Operation Northern Watch to enforce a no-fly zone over the Kurdish section of Iraq.
During her career, she served as chief of flight medicine for the 113th Medical Group and also as chief of aeromedical services. She held both positions before becoming chief of medical services for the group.
During her military career, Lt. Col. Washington earned numerous decorations, including the Meritorious Service Medal.
In addition to her passion for medicine, she was a music lover, particularly gospel, jazz and rhythm and blues. She also bowled and collected African-American art.
Survivors include her mother, Blanche B. Washington; and two sisters, Barbara W. Battle and Diane W. Mason.