Personality: Faye K. Logan
Spotlight on Richmond president of National Council of Negro Women
10/13/2016, 5:32 p.m.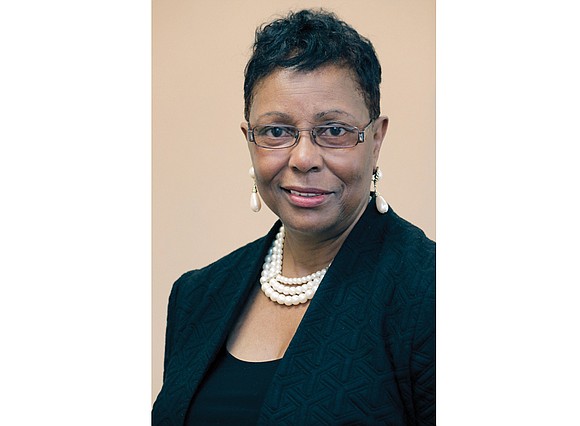 In 1956, two years after the U.S. Supreme Court outlawed separate and unequal public education — and a period many Richmonders remember vividly — Richmond and many other Southern cities were in the midst of growing political change.
But persistent racial inequalities in health, education and employment opportunities and resources faced by women and children, in particular, spurred the establishment of the Richmond section of the National Council of Negro Women.
With six decades of advocacy and memories, the Richmond branch of the women's organization will be celebrating its diamond anniversary Nov. 12 at a Henrico County hotel, according to its President Faye K. Logan. Janice L. Mathis, the executive director of the national organization, is the speaker for the ticketed event to which the public is invited.
The theme, "The Move Continues," is particularly powerful, Mrs. Logan says. "The same struggles — racial tension, drug abuse, job discrimination, social injustices, political upheaval, unemployment and the disappearance of a sound family structure — are the same concerns that we are encountering today."
The National Council of Negro Women was founded nationally in 1935 by Mary McLeod Bethune, an educator and civil rights advocate who started a school for girls in Florida in 1904 that later became Bethune-Cookman University. She envisioned an organization that would harness the power of women to create change in starting the NCNW. It's fourth president, Dr. Dorothy I. Height, was a Richmond native.
According to its mission, the organization "serves as a catalyst for effective action to address disparities and inequities in communities of color through research, service and advocacy."
Started with seven women, the organization's Richmond section now has 31 members and 14 lifetime members, and is one of 230 sections in the United States and the Caribbean.
True to its mission, the Richmond group engages in community events through partnerships with a variety of organizations, including the Central Virginia Food Bank, the Pregnancy Centers of Central Virginia, Virginia Union University, Sisters Network Central Virginia and others.
With her election in September to a second two-year term as president, Mrs. Logan is leading the organization as it faces two special challenges — engaging black millennial women and encouraging people to vote.
Her strategy for reaching more students and young adults, the demographic catalyst for the organization's formation 81 years ago, is to remain transparent in understanding millennials, she says, "in order to bridge the gap between the beliefs of NCNW and this generation. They are the ones who will continue to carry the legacy of Mary McLeod Bethune in leaving no one behind."
Her other challenge is mobilizing Richmonders for this year's presidential and general election Nov. 8.
"NCNW has campaigned and campaigned for years for the right to vote and the right candidates," she says. "But for this election in particular, getting out and voting is what really counts."
The organization is working with Imani Christian Ministries to register new voters and engage old ones, Mrs. Logan says.
Meet civic activist and this week's Personality, Faye K. Logan: