Personality: Martha E. Hancock-Carter
Spotlight on president of Richmond Section of the National Council of Negro Women Inc.
2/8/2019, 6 a.m.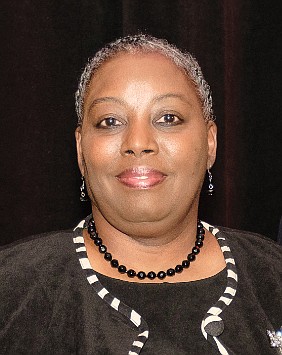 Martha E. Hancock-Carter, president of the Richmond Section of the National Council of Negro Women Inc., is dedicated to preserving the vision and legacy of the national organization's late founder, Mary McLeod Bethune.
Founded on Dec. 5, 1935, NCNW had the support of the leaders of 28 notable black women's organizations who envisioned a unified force dedicated to working to improve racial conditions nationally and internationally and sponsoring educational programs.
Ms. Hancock-Carter, a Maggie L. Walker High School graduate and Anthem Blue Cross/Blue Shield customer representative, was introduced to the organization by a friend in 2016. She became involved in the NCNW's programs and later took a leadership role, moving from third vice president to president last April.
The Richmond Section, established in 1956, "was an important force in the city because of the work we were doing," Ms. Hancock-Carter says. "However our presence has dropped off over the years and people are not aware of our activities."
Now 48 members strong, the chapter's main activities revolve around supporting community organizations, including reading to elementary and middle school students through their work with Richmond Public Schools' RVA Reading; donating to FeedMore, the Central Virginia food bank and feeding programs; and donating items needed by pregnant women and young children through the Pregnancy Resource Center of Metro Richmond.
Ms. Hancock-Carter believes it is important to empower black women so they can continue to get ahead in life and take advantage of opportunities for advancement. The chapter, she says, wants to establish more formal relationships with college and high school students by starting collegiate and youth groups.
"Some of our young ladies don't know their worth," Ms. Hancock-Carter says. "NCNW wants to instill the power of acknowledging and internalizing their value so they can go forward in life and live out their dreams."
At each chapter meeting, speakers address various issues to boost women's education and empowerment. Speakers have focused on health issues, such as cancer, diabetes and good heart health, Ms. Hancock-Carter explains, and financial literacy, including budgeting, wealth building and retirement.
Ms. Hancock believes the collegiate group, to be based at Virginia Union University, will be the future of the NCNW.
"We want these dedicated young women to pick up where we are leaving off and move the organization forward and continue founder Mary McLeod Bethune's legacy."
Meet a women's leader and this week's Personality, Martha E. Hancock-Carter:
Occupation: Customer representative, Anthem Blue Cross/Blue Shield
No. 1 volunteer position: President, Richmond Section of the National Council of Negro Women Inc.
When elected:  April 2018.
Date and place of birth: Jan. 19 in Washington, D.C.
Current residence: Henrico County.
Education: Maggie L. Walker High School.
Family: Children, Tanita, 37; Jenise, 31; and Wayne, 29.
Mission of National Council of Negro Women: Our mission is to improve the quality life for women, their families and communities.
When Richmond Section NCNW was founded: Nov. 6, 1956.
Why I am excited about this organization: The NCNW recognizes leadership among African-American women and they encourage you to strive as high as you can.
How I start the day: By praising God for waking me up to see another day.
Quality I most admire in another person: Their organizational skills and being on time.
Something I love to do that most people would never imagine: I like working in the background and not up front.
A quote that I am inspired by: "To God be the glory."
How I unwind: Sitting back watching a good movie.
Best late-night snack: A Honey Bun.
The person who influenced me the most: My mother, Martha W. Hancock, because of her incredible strength and leadership.
What I'm reading now: "She Speaks: Wisdom From the Women of the Bible to the Modern Black Woman" by Jenkins M. Clark.
My next goal: For the NCNW Richmond Section to start a collegiate and youth group.