Judge suggests Gov. Pence's Syrian refugee ban rooted in religious bias
9/24/2016, 2:05 p.m.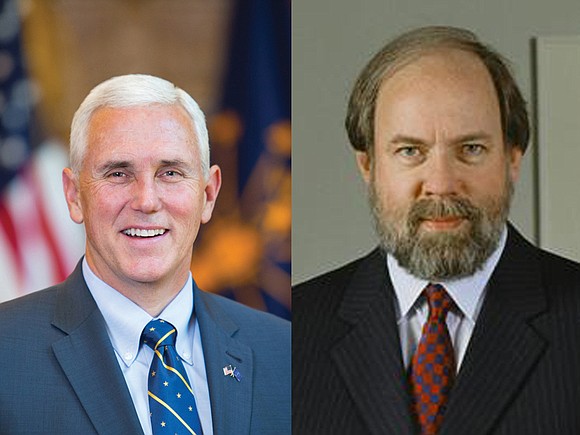 By Stephanie Wang
Religion News Service
INDIANAPOLIS 
"Wait, wait," Judge Frank H. Easterbrook said, taking a tone of dry incredulity. "The governor of Indiana knows more about the status of Syrian refugees than the U.S. State Department does?"
On Sept. 14, a panel of three judges of the U.S. 7th Circuit Court of Appeals lashed into Indiana Gov. Mike Pence's attempted ban of Syrian refugees resettling in the state.
Indiana Solicitor General Thomas Fisher explained that Gov. Pence was concerned that the United States cannot properly screen Syrian refugees for potential terrorist threats, based on a statement from the FBI. That's why the Pence administration said he tried to cut off resettlement agencies from state grants, which flow through the federal refugee program for refugees entering the state from Syria.
The state was challenging an injunction by federal Judge Tanya Walton Pratt, which blocked Gov. Pence's order and deemed it unconstitutional discrimination. The state is being sued by Exodus Refugee Immigration, which has resettled more than 130 Syrian refugees in Indiana this year despite Gov. Pence's directive.
Judges' repeated and pointed questioning during last week's hearing seemed to center on how Gov. Pence, now the Republican vice presidential candidate and running mate of Donald J. Trump, justifies the singling out of Syrians and whether he has the authority over the federal government to do so.
The court will rule at a later date.
"Are Syrians the only Muslims that Indiana fears?" Judge Richard A. Posner asked.
"Well, this has nothing to do with religion," Mr. Fisher replied. "This has to do with what's going on in Syria."
"Oh, of course it does," Judge Posner said.
"Oh, I object to that, your honor," Mr. Fisher said.
"Look," Judge Posner said, "if you look at the attacks, the terrorist attacks on the United States — 9/11, the attacks in New York, Boston, San Bernardino — they're all by Muslims. ISIS is Muslim. Al Qaeda was Muslim. Right? You understand that, don't you?"
"I do," Mr. Fisher said. "I don't —"
"Do you understand that?" Judge Posner said. "Now, my question is —"
"I said I did," Mr. Fisher said, "and the governor's directive doesn't go into religion."
"Don't interrupt me," Judge Posner said.
Judge Easterbrook stepped in: "Attempting to argue over a judge is not a productive method of argument."
"So," Judge Posner continued. "Is it your view that Syrians are the only potential terrorists in the United States?"
"People from Syria are the ones where we lack the intelligence," Mr. Fisher said. "That's what the FBI director and the assistant FBI director have said."
"So we have perfect intelligence about all other potential terrorists?" Judge Posner asked. "ISIS, and all those people?"
"Of course not," Mr. Fisher said.
"Well, why have you singled out Syrians?" Judge Posner asked.
Mr. Fisher reiterated that Gov. Pence's concerns arose from the FBI director's comments.
"In other words, we have enough information to prevent terrorist attacks by anybody who is not from Syria? Is that what you're saying? Is that what the FBI says? We're perfectly secure" — Judge Posner chuckled — "against everyone except Syrians?"
"No," Mr. Fisher said.
"That's preposterous, right?" Judge Posner said.