Maymont, Easter on Parade this weekend
4/13/2017, 8:58 p.m.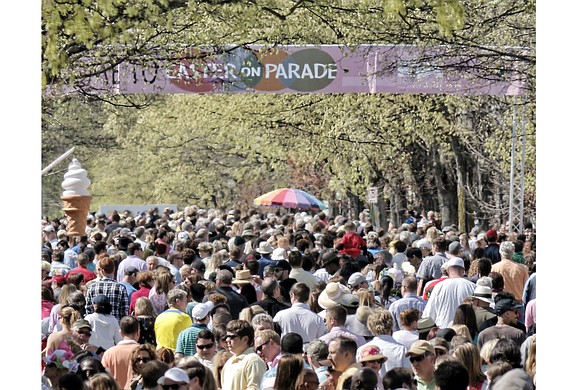 The blooms of daffodils and cherry blossoms indicate the arrival of spring and, with it, anticipation of Easter begins to build.
Family friendly events celebrating the Easter season await.
Two of the most popular events in Richmond are being held this weekend – Dominion Family Easter at Maymont and Easter on Parade on Monument Avenue.
Dominion Family Easter at Maymont is scheduled for 10 a.m. to 3 p.m. Saturday, April 15, on the Carriage House Lawn at Maymont, 1700 Hampton St.
Free activities will include singers, jugglers, puppets and other entertainers on two stages, storytelling under the "Bunny Tree," meeting the Easter Bunny, Victorian-themed lawn games, a Silver Diner planting station and bonnet parades.
Activity passes that cost $15 are required for the "Eggtivity Zone," with five egg-themed stations for children to collect eggs, and a "Hoppin' Fun Zone," allowing participants to choose crafts, games and other activities.
Maymont members can purchase the passes in advance for a discount.
Food vendors will be on site and tours of the Dooley Mansion will be available from 11:30 a.m. to 4:30 p.m. Suggested donation: $5.
Details: www.maymont.org or call (804) 358-7166.
Easter on Parade will be 1 to 5 p.m. Sunday, April 16, on Monument Avenue, between Allen and Davis avenues.
The free event draws people and pets, some in hats, who parade along the boulevard. More than 25,000 people typically attend.
Two stages with performers and entertainers will be situated at Monument and Allen avenues and Monument and Davis avenues.
Roving performers, including jugglers, dancers, an accordionist and other musicians, will be highlighted, along with children's activities.
A pet bonnet showcase will be held at 3 p.m., while the people bonnet showcase is scheduled for 4 p.m.
Food and merchandise vendors also will be on site.
The annual event is produced by Venture Richmond.
Details: www.venturerichmond.com or call (804) 788-6466.