STEM in sports: City students experience the link
4/18/2017, 7:35 a.m.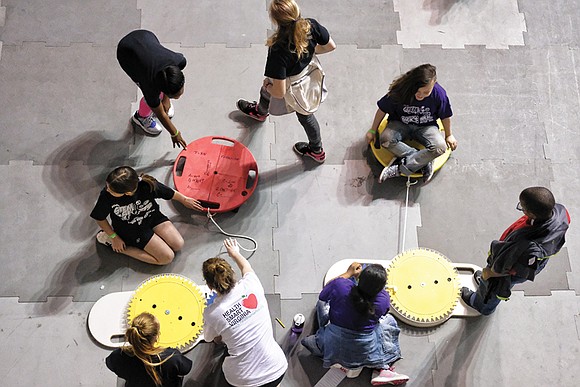 By Holly Rodriguez
Yuan Canesius of Elkhardt-Thompson Middle School got to play basketball in the Virginia Commonwealth University Siegel Center last week, but he didn't use a ball and there was no hoop.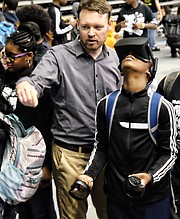 He was among 200 fifth- and seventh-graders from 17 Richmond elementary and middle schools who were shown the link between sports and science, technology, engineering and math at the third RVA STEM in Sports Day at VCU. He played using a virtual reality headset, one of several highlights of the event.
Four key links between STEM and sports demonstrated during the event were sports performance, injury prevention, recovery and nutrition.
Students rotated between exhibit stations, with some students actually hitting a baseball, dribbling a basketball and kicking a soccer ball to demonstrate how technology can be used to measure the speed of a pitched baseball or the angle of a basketball shot or kick of a soccer ball to help coaches and athletes improve performance.
They also learned that some sports equipment used for training, including balls, bats and shoes, include microchips to help prevent injuries.
When Huguenot High School students Myles Manuel, Jennifer Garcia and Irene Andrade, who also are enrolled in the Governor's Career and Technical Education Academy for STEM at the Richmond Technical Center, showed a group of seventh-graders what their robots could do at the event, they were demonstrating hours of their work. The time invested included using math and technology skills to design and construct the robots and engineering skills to program them to complete specific tasks — in this case, lifting cones and putting them over a gate.

"The students use computer code to design the robots," said Jorge Valenzuela, an instructional specialist in technology and engineering education with Richmond Public Schools. "Then there's electrical wiring and use of sensors, gears and motors to build the robots and make adjustments to accomplish a mission."
This project-based learning approach, he said, includes classroom instruction about the basic principles of making robots and designing them to accomplish specific tasks. Students then publicly present their work, as they did at RVA STEM Sports Day, and also teach younger students how the project goals were accomplished.
The students' robots will compete against other Virginia high school robotics teams in the VEX Robotics Competition on May 6 in Hampton. The project helps to develop team skills, he said, which are essential in athletics and academics.
Students also had the opportunity to meet STEM professionals, learn about STEM careers and, through the Huguenot students, learn what classes are needed to enter the Governor's STEM Academy in high school.