Dan Rooney, who opened doors in NFL for African-Americans in top jobs, dies at 84
4/21/2017, 6:41 a.m.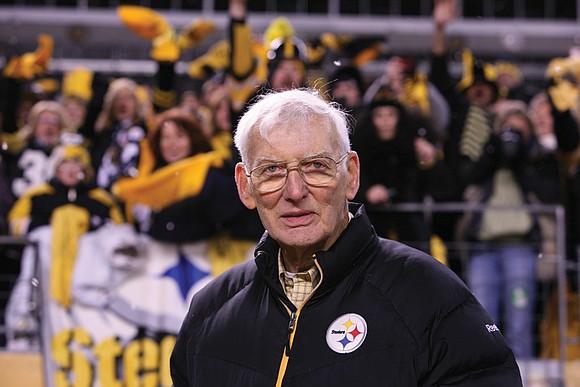 As a driving force behind the NFL Pittsburgh Steelers for many decades, Dan Rooney won endless battles on the field — most notably a record six Super Bowl titles.
But it was his progressive achievement off the field that might be most rewarding to the game of football.
Mr. Rooney, who died Thursday, April 13, 2017, at 84, was instrumental in the policy that has helped open the doors to NFL head coaching and top management positions for African-Americans and people of color.
The policy, established in 2003, is called the Rooney Rule and requires NFL teams to interview at least one minority candidate for open head coaching and general manager positions.
"Few men have contributed more to the growth of the NFL than Mr. Rooney," said NFL Commissioner Roger Goodell. "He is one of the finest men to ever represent our league."
Mr. Rooney, then as a member of the NFL Diversity Commission, pushed for the policy following the firing of two African-American coaches, Tony Dungy in Tampa Bay and Dennis Green in Minnesota, despite their winning records.
Practicing what he preached, Mr. Rooney hired Hampton native Mike Tomlin, an African-American who played college football at the College of William & Mary, as the Steelers' coach in 2007.
Tomlin didn't disappoint, guiding Pittsburgh to the 2009 Super Bowl championship. Tomlin remains among the most successful NFL coaches with a 103-57 regular season record and 8-6 mark in the playoffs.
Prior to the Rooney Rule, only 6 percent of NFL head coaches were African-American. Between 2003 and now, 17 African-Americans have been named to head coaching positions, or 23 percent.
The 2017 NFL season will start with seven African-American head coaches and one Latino — Ron Rivera with the Carolina Panthers.
Mr. Rooney was named to the NFL Hall of Fame in 2000, joining his father, Art Rooney, who founded the Steelers in 1933.
He served as president of the Steelers and more recently as chairman, passing the president's chair to his son, Art Rooney II.
The Steelers had been perennial bottom-feeders before Mr. Rooney took over operations in the late 1960s. That changed quickly, in part, because of Mr. Rooney's sharp eye for talent at historically black colleges and smaller majority-white institutions.
Pittsburgh's first Super Bowl crown in 1975 was built largely on HBCU talent. The 1975 Steelers featured nine HBCU athletes, including Hall of Famers-to-be Mel Blount from Southern University and John Stallworth from Alabama A&M University.
Mr. Rooney, overseeing the draft, took a gamble in 1969 by selecting a little known defensive tackle out of off-the-beaten-track North Texas State. With the fourth overall pick, the Steelers tabbed "Mean" Joe Greene, who quickly emerged as one of the best to ever wear the Steelers black and gold.
With Greene wreaking havoc on the opposing offenses, the Steelers won 1975, 1976, 1979 and 1980 Super Bowls.
Humble to a fault and small in physical stature, Mr. Rooney was perhaps the most loved man in Pittsburgh. Frequently he walked to games, mingling with fans along the way, just as his dad had done before him.
He was famous for inviting Steelers employees of all pay scales to lunch and showing genuine interest in their well-being. 
Though a lifelong Republican, Mr. Rooney became enamored with then- presidential candidate Barack Obama in 2008. Defying certain backlash from his Pittsburgh fan base, Mr. Rooney endorsed Mr. Obama for president, even presenting him with a Steelers jersey on Oct. 27, 2008.
Following the first election, President Obama appointed Mr. Rooney to the position of ambassador to Ireland. He was active in that role from 2009 to 2013.
"Mr. Rooney was a great friend of mine," President Obama told the media, "but, more importantly, he was a great friend of Pittsburgh."