Florida legislature apologizes for decades of racial injustice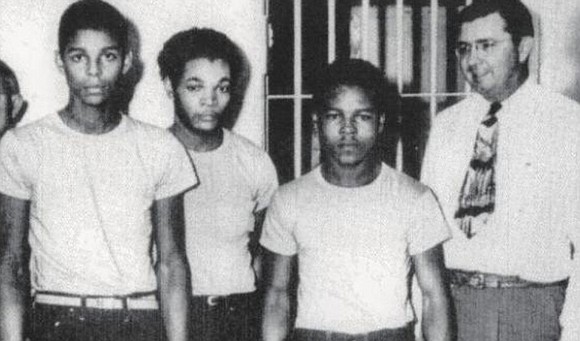 Associated Press
TALLAHASSEE, Fla.
It has taken decades, but Florida is now apologizing for two of its darker misdeeds of its past.
The Florida House unanimously passed two resolutions Tuesday. The first acknowledged decades of abuse at a Florida reform school and the second apologized to the families of four young black men known as the "Groveland Four." They were accused of raping a white girl 68 years ago in what is now seen as a case of racial injustice.
"We stand here in solidarity saying, 'We're sorry and we apologize for the wrongs that happened to you,' " Democratic Rep. Tracie Davis said as lawmakers stood and looked up at several men in the House gallery who were abused at the Arthur G. Dozier School for Boys in the 1950s and 1960s.
Minutes later, Democratic Rep. Bobby DuBose recounted the case of the Groveland Four.
"This resolution is us simply saying, 'We're sorry,' understanding that we will never know nor be able to make up for the pain we have caused," Rep. DuBose said before asking House members to stand with him and turn toward the relatives of the four men who were accused of rape in Lake County in 1949.
"As the state of Florida and the House of Representatives, we're truly sorry," he said.
In the case of the Groveland Four, a white 17-year-old accused the men of rape. They were immediately arrested. A posse of about 1,000 men was formed to hunt down Ernest Thomas, who escaped from jail soon after their arrest. He was killed in a hail of gunfire when he was found sleeping under a tree.
Charles Greenlee, Walter Irvin and Samuel Shepherd were convicted despite dubious evidence. After the U.S. Supreme Court ordered a new trial in 1951, Lake County Sheriff Willis McCall shot Mr. Irvin and Mr. Shepherd, claiming the handcuffed men tried to escape as he transferred them from one prison to another.
Mr. Irvin survived despite an ambulance refusing to transport him because he was African-American. He was paroled in 1968 and found dead in his car when he returned to Lake County for a funeral two years later.
Mr. Greenlee was paroled in 1962 and died in 2012. His daughter, Carol Greenlee, 67, and son Thomas Greenlee, 52, were at the Capitol on Tuesday.
"Today, a part of it is forgiveness. And he would feel good about that," Ms. Greenlee said. "This means that something positive has come out of something so wrong and so negative and so bad."
After the votes, Robert Straley, 70, recalled his time at the Dozier school in Marianna, Fla., when he was 13 and weighed only 105 pounds. He was beaten his first night at the school and days later he was awakened by a man who covered his mouth and took him to what was called the "rape room."
He has been in touch with hundreds of other survivors in recent years, most of whom are brought to tears when they recall the abuse. He said Tuesday's apology helped.
"It felt like real justice," Mr. Straley said. "Florida had finally realized that things had been swept under the rug. This was such an outrageous event. We're talking about a town that was in league with a school that flogged boys for 68 years. Flogging is torture."
Mr. Straley is part of a group known as The White House Boys, named for the white cinderblock building where boys were taken and hit with a long leather strap, that has worked to get the abuse recognized.
The school, located 60 miles west of Tallahassee, was shut down in 2011. The University of South Florida recently exhumed the remains of 51 bodies in hopes of identifying boys buried in unmarked graves. More than 90 boys died there between 1900 and 1973.