Sandra L. Wright-Bonner, former member of Wright Family Singers, dies at 73
8/4/2017, 9:33 a.m.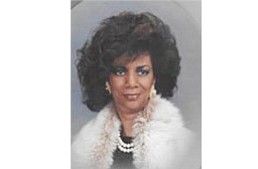 Sandra L. Wright-Bonner touched the lives of untold numbers of people with her voice, her work and her leadership in her church.
She is being remembered for her many positive roles following her death on Friday, July 21, 2017. She was 73 and the wife of Dr. Lloyd A. Bonner, a well-known Richmond internal medicine practitioner.
Growing up, Mrs. Wright-Bonner was a singer and guitarist with her family's group, The Wright Family Singers, performing in churches and on the radio for about three decades until the 1970s.
After graduating from Virginia Union University, where she was active in the Beta Epsilon Chapter of Delta Sigma Theta Sorority, she pursued a career in social work, holding varied positions in Michigan and Virginia. She worked as a medical social worker at Henry Ford Hospital in Detroit and at Virginia Commonwealth University.
She later earned a master's degree in social work from VCU and a post master's from Tulane University. She also worked as a child welfare worker for the state of Virginia and as a program coordinator for Brighton Gardens Sunrise Senior Living in Bon Air.

Mrs. Wright-Bonner also held varied leadership posts at her church, First Shiloh Baptist of Mechanicsville, including president of the Youth Department, chair of the Leadership Council and the Board of Christian Education, and secretary of the Nurses Ministry and the Sunday School.
She also was a homework instructor at the church and a member of the Youth Advisory Council.
Mrs. Wright-Bonner also represented her church in the Chickahominy Baptist Association, where she served as president of the Division of Women, vice president of the Youth Division and chair of the Program Committee.
Family and friends celebrated her life at a memorial service at the church on Saturday, July 29.
In addition to her husband, survivors include two daughters, Tikia J. Bonner-Reynolds of Sterling and Charmian N. Bonner of Baltimore; and two sisters, Dr. Brenda W. McCurdy of LaSalle, Ontario, Canada, and Gayle W. Littell of West Bloomfield, Mich.
The family requests memorial contributions be made to First Shiloh Baptist's SonLight Learning Center, 8150 Walnut Grove Road, Mechanicsville, Va. 23111.