Personality: Bernice E. Travers
Spotlight on president of Richmond Crusade for Voters
8/11/2017, 11:30 a.m.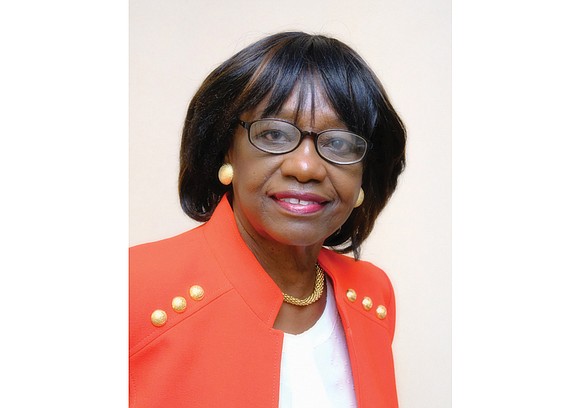 When Bernice E. Travers joined the Richmond Crusade for Voters in 1977, the election of a majority African-American Richmond City Council disrupted a centuries old, white-majority power structure. "I perceived the Crusade as a tour de force. And I joined the Crusade … during the leadership of Dr. William S. Thornton, John Brooks and Dr. William Ferguson Reid and Dr. John Howlette, who were instrumental in this historic achievement," she says.
Since the organization's founding in 1956, the Crusade has worked to increase the voting strength of the African-American community and mobilize voters to make their voices heard at the polls, Ms. Travers says.
While membership has ebbed through the years to its current roster of 61, Ms. Travers is dedicated to revitalizing the organization. As the recently elected president, Ms. Travers says her No. 1 priority is to "rebrand the Crusade's image and visibility to increase its strength and influence in the voting community."
She wants to elevate the Crusade's significance among elected officials and candidates vying for office. "The members' desire is to recapture the historic significance to register African-Americans to vote and challenge the social and economic injustices we are experiencing today," she says.
A native of Richmond, Ms. Travers says her goal during her two-year tenure is to increase membership and foster community collaborations to invigorate the organization and ensure growth, stability and continuity of the Crusade's legacy.
The Richmond Crusade for Voters was founded in direct opposition to Massive Resistance, a campaign launched by white segregationist politicians to keep schools racially segregated in Virginia and the South. But efforts intended to hamper African-Americans withered under the strength and momentum of the organization's block-to-block campaign strategy designed to educate and register African-American voters, she says.
The biggest challenge today, Ms. Travers says, is registering, educating and mobilizing individuals to vote for candidates who have the best interest of all people in mind.
"African-Americans are in dire times, and we must cease electing and re-electing individuals who are merely committed to their own political ambitions, who are not committed to fight for the people who elected them or who can't get the job done," she says.
The Crusade for Voters encourages support for candidates "who are committed to quality education for our children, economic parity and innovative solutions to reduce poverty and unemployment and the resulting school-to-prison pipeline."

Most recently, the Crusade is mobilizing to address the chronically poor conditions of public school buildings in Richmond. "When we learned that black children are attending Richmond city schools plagued with mold, mildew, leaky roofs and rodents," the Crusade initiated a "Put Schools First" petition drive to put a referendum on the November ballot to push for modernization of all Richmond Public Schools buildings.
To date, 14,000 signatures have been collected, several thousand more than required to put the measure on city ballots. "The Crusade's mission is to address education, social and economic disparities and resolve to influence legislative policies," Ms. Travers says. "We invite citizens, college students, the clergy and leaders and members of civic, social and business organizations to join the Crusade and fight for quality education for our children; employment for our youths and adults; affordable housing; economic and business opportunities; and reducing the drugs, crime and incarceration plaguing our community."