Downtown to light up Friday with 33rd Annual Grand Illumination
12/1/2017, 8:39 p.m.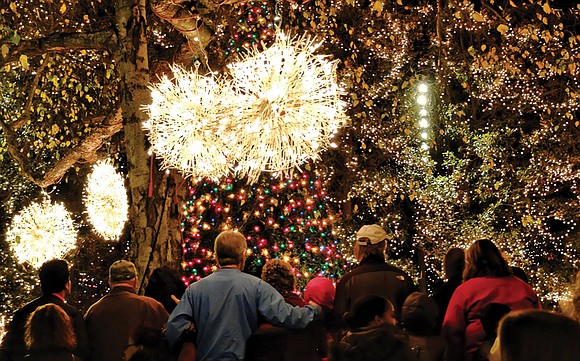 By Ronald E. Carrington
Christmas bells will ring, carolers will sing and Santa will arrive on his sleigh during holiday events this week in Downtown.
Hundreds of people of all ages are expected at the 33rd Annual Grand Illumination at the James Center, a free event that has become a holiday party around the lighting of Downtown buildings.
Festivities begin at 5:50 p.m. Friday, Dec. 1, on the steps of One James Center, 10th and Cary streets, where Melissa Chase and Jack Lauterback of 103.7 Play radio will become the Snow Queen and Jack Frost. They and Santa will lead the crowd in the countdown to the 6 p.m. illumination of Richmond's skyline and the James Center's tree and reindeer.
Two blocks of family entertainment and music will be featured until 7 p.m. Among the performers featured will be Good Shot Judy, Silly Bus, James River Brass, SPARC (School of the Performing Arts in the Richmond Community), Flute Forte, the American Youth Harp Ensemble, The VCU Trombone Choir & Friends and characters from the cast of "The Nutcracker."
The Virginia Piedmont & Central HO Model Railroaders will have an exhibition inside the James Center.
Also in the lobby of 3 James Center will be a collection sleigh for gifts for area children. Greater Richmond SCAN, Stop Child Abuse Now, will be collecting toys for 200 children. People are asked to bring unwrapped gifts for children up to age 17 from Grand Illumination through Friday, Dec. 8.
Holiday revelers can circle Shockoe Slip and Shockoe Bottom on a horse-drawn, decorated 12-passenger wagon by James River Carriages from 6 to 10 p.m. Friday, Dec. 1, and Saturday, Dec. 2. The free rides, sponsored by Venture Richmond, will start and end at the fountain at 13th and Cary streets.
Horse and carriage rides also will be available for $10 per person on Fridays through Sundays beginning Dec. 8 and ending Friday, Dec. 22. Those 20-minute rides will leave from 10th and Cary streets, and will be available 7 to 10 p.m. Fridays, 5 to 9 p.m. Saturdays and 5 to 8 p.m. Sundays. Children 4 and under sitting in a lap are free. Ride reservations: (804) 350-7752.
Grand Illumination events, including music, activities, performers, an art exhibition and toy train display by the River City 3 Railers, also will take place at Main Street Station, 1500 E. Main St., and its newly renovated Train Shed 4 to 10 p.m. Friday, Dec. 1.
Performers include saxophonist James "Saxsmo" Gates, RVA Tuba Christmas and the Doctors of Jazz. The Merry Elves Aerialists also will perform, and horse drawn carriages by Hundley Carriages will be there.
A gallery, hosted by Crossroads Art Center, and a winter market, hosted by Southern Grade, will be featured at the train station Friday, Dec. 1, and from 11 a.m. to 7 p.m. Saturday, Dec. 2, and 11 a.m. to 6 p.m. Sunday, Dec. 3. Entertainment also will be featured throughout the day Saturday, including The Noteables from the Richmond Men's Choir and St. Michael the Archangel Catholic Church Choir. Details: (804) 523-3329.