Former Trump official pleads guilty in special prosecutor's probe
Reuters | 12/8/2017, 5:41 a.m.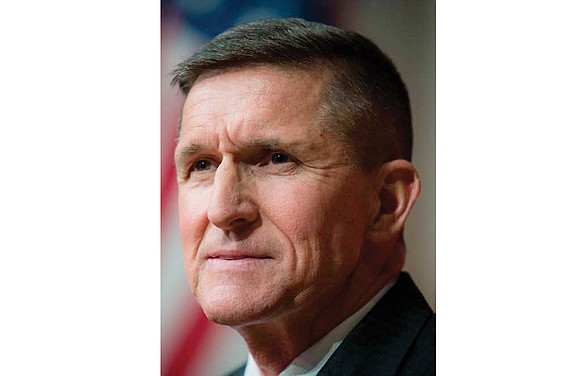 Reuters
WASHINGTON
Former national security adviser Michael Flynn pleaded guilty last Friday to lying to the FBI about his contacts with Russia, and he agreed to cooperate with prosecutors delving into the actions of President Trump's inner circle before he took office.
The dramatic turn of events also raised new questions about whether President Trump's son-in-law, Jared Kushner, had a role in those Russia contacts.
Mr. Flynn was the first member of President Trump's administration to plead guilty to a crime uncovered by special counsel Robert Mueller's wide-ranging investigation into Russian attempts to influence the 2016 presidential election and potential collusion by Trump aides.
Under a plea bargain deal, Mr. Flynn admitted in a federal court that he lied when asked by FBI investigators about his conversations last December with Russia's then-ambassador, Sergei Kislyak, just weeks before President Trump took office.
Prosecutors said the two men discussed U.S. sanctions against Russia and that Mr. Flynn also asked Mr. Kislyak to help delay a U.N. vote seen as damaging to Israel. On both occasions, he appeared to be undermining the policies of outgoing President Obama.
They also said a "very senior member" of President Trump's transition team told Mr. Flynn to contact Russia and other foreign governments to try to influence them ahead of the U.N. vote.
Sources told Reuters that the "very senior" official was Mr. Kushner, a key member of Trump's transition team and now the president's senior adviser.
Mr. Kushner's lawyer, Abbe Lowell, did not respond to multiple requests for comment. He has previously said Mr. Kushner has voluntarily cooperated with all relevant inquiries and would continue to do so.
Mr. Flynn's decision to cooperate with Mr. Mueller's team marked a major escalation in a probe that has dogged the president since he took office in January.
There was nothing in the court hearing that pointed to any evidence against President Trump, and the White House said Mr. Flynn's guilty plea implicated him alone.
Mr. Flynn, a retired army lieutenant general, served as President Trump's national security adviser for 24 days despite former President Obama's warnings about hiring him. Mr. Flynn was forced to resign after he was found to have misled Vice President Mike Pence about his discussions with Mr. Kislyak.
But Mr. Flynn was an enthusiastic supporter of President Trump's election campaign and the president continued to praise him even after he left the administration, saying Mr. Flynn had been treated "very, very unfairly" by the news media.
A small group of protesters yelled "Lock him up!" as Mr. Flynn left the courthouse last Friday, echoing the "Lock her up!" chant that Mr. Flynn himself led against President Trump's Democratic rival, Hillary Clinton, in vitriolic appearances on the campaign trail.
Mr. Mueller's team also is looking at whether members of President Trump's campaign may have sought to ease sanctions on Russia in return for financial gain or because Russian officials held some leverage over them, people familiar with the probe said.
Deutsche Bank, Germany's largest bank, was asked by the special prosecutor for data on accounts held by President Trump and his family, a person close to the matter said Tuesday, but President Trump's lawyer denied any such subpoena had been issued.