Mayor to use fellowship resources to help preserve Richmond's slavery history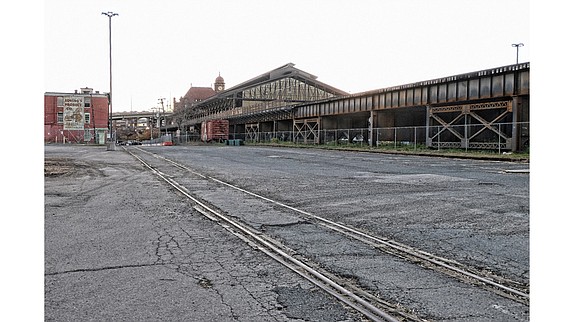 Richmond Mayor Levar M. Stoney is pledging to use a national fellowship he was awarded to help make Richmond a major destination for learning about America's slavery past.
Despite some continuing skepticism, the mayor issued the pledge Dec. 13 in an apparent response to concerns that his support for expansion of Main Street Station as a passenger train center could ruin efforts to preserve Richmond's historic ties to slavery, including its role as the nation's second largest slave market before the Civil War.
Mayor Stoney believes both can coexist.
He stated that he supports going beyond previous plans to create a slavery museum and interactive site in Shockoe Bottom. He believes his selection as a 2018 David Rose Fellow through a program of the National League of Cities and the Urban Land Institute will benefit such efforts.
Mayor Stoney was one of four mayors awarded a fellowship. He stated that the fellowship program would connect him with a team of urban planers who would provide guidance and technical support for preserving, protecting and commemorating "the sacred grounds contained within Shockoe Bottom, in particular, the Shockoe Valley footprint."

The sacred ground, he stated, includes the African Burial Ground, located north of Broad Street and west of 15th street, and the site of the former Lumpkin's Jail, also called the Devil's Half-Acre, that was among the city's largest slave jails before the Civil War. It is located a block west of the train station.
It also would include other sites in that area that were connected with the slave trade.
For more than a year, City Hall has been working with the community on plans for a museum-style site at the Lumpkin's Jail location, which was excavated in 2006. Consultants are expected to issue recommendations next year.

Mayor Stoney stated that, as a result of his fellowship, a team of urban planners and Rose fellowship faculty advisers will come to Richmond in February to review the city's current proposals, conduct interviews and make additional recommendations on ways to create "a cultural and international destination (regarding slavery) that would not only educate, but also promote contemplation, dialogue, reconciliation and, ultimately, healing."
He stated his goal is to "develop an area plan that would enable us to better protect and honor the untold and painful history" of the enslaved who played a key role in the development of the city and state.
He also wants the plan to better connect Lumpkin's Jail and the 18th century African Burial Ground with other city investments, such as the Richmond Slave Trail, Main Street Station's newly created event space and the transformation now underway of the 17th Street Farmers' Market into a European-style plaza.
Free and enslaved people were interred at the African Burial Ground, including Gabriel, leader of an unsuccessful slave rebellion.
Mayor Stoney said the Rose team would help Richmond develop a plan that would ensure that these assets and others could exist "in concert" and not conflict with the city's plans "to protect and honor our history."