Mayor to use fellowship resources to help preserve Richmond's slavery history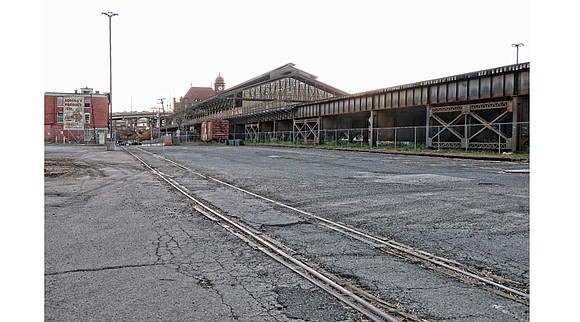 "As the mayor of a city that was the former capital of the Confederacy, I feel not only a civic but a personal responsibility to ensure Richmond realizes its potential to become a place where we tell the complete and heartbreaking story of the people in bondage who helped build this city, and our nation, with their sweat, blood and very lives."
His words, though, did not win over skeptics such as Ana Edwards and Phil Wylato of the Defenders for Freedom, Justice and Equality; Lynetta Thompson, former president of the Richmond Branch NAACP; and the Rev. Rodney Hunter, president of Richmond Chapter of the Southern Christian Leadership Conference and pastor of Wesley Memorial United Methodist Church. They have been been pushing for creation of a slavery memorial park that would include the Lumpkin's Jail site, the burial ground and other city proprety east of the train station and are anxious for the mayor to embrace that plan.
Still, in a response to the mayor, the four expressed concern that the mayor has yet to actually present preservation plans or give more than lip service to the concept of the park.
They also expressed alarm that neither the mayor nor Richmond City Council has taken steps to propose or approve protective zoning for the African Burial Ground. They said city officials, instead, have "stalled on processing the application for old and historic designation for that land and Lumpkin's Jail."
They see Mayor Stoney's announcement as another delay in securing that protection. They also expressed concern that he is contradicting his support for a state plan to expand Main Street Station as a center for high-speed rail that would include parking decks on land bordering the CSX railroad tracks intended to be part of the Shockoe Bottom Memorial Park.
"All this raises a question: What is Mayor Stoney's vision? Is it to properly memorialize one of the most important sites in black history?" they asked.
"Or is it to accommodate the wealthy and politically influential Downtown developers — especially the major Shockoe Bottom developers — who have long coveted this sacred ground for personal profit?"
The four stated they remain committed to working with Mayor Stoney and other city officials, but only if it leads to reclaiming an irreplaceable site.
"We reaffirm that we will not rest until Shockoe Bottom is reclaimed and properly memorialized in a way that accurately and fearlessly tells the story of the suffering, resistance and immense profit-making that took place there," they stated.
"And that process and memorialization must primarily economically benefit the city's black community, something that the city's efforts up to now do not address."