Sean 'Diddy' Combs to buy NFL team?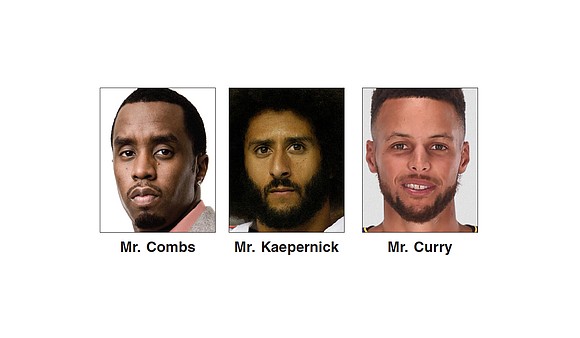 Could the "emperor of hip-hop" be preparing to inject some color into the whites-only ranks of NFL football team owners?
That appears to be the deal.
Sean "Diddy" Combs, ranked as the biggest impresario of contemporary rhythm and blues and pop music, has his eyes on that prize.
On Sunday, he issued signals on social media that he is planning to jump into the expected bidding war for the NFL's Carolina Panthers. And he suggested that he would hire Colin Kaepernick, the former San Francisco 49ers quarterback who started a national wave and was blackballed after taking a knee during the pregame playing of the national anthem in protest for police killing and abuse of people of color.
Current owner Jerry Richardson, who is under fire from other NFL owners after being outed for engaging in sexual harassment and spewing racial slurs, announced he will put his family's 48 percent share of the team up for sale after the season ends.
The Richardson share is valued at $1.2 billion, according to several reports. The remaining 52 percent is owned by 14 individuals and groups that each own smaller slices.
Questions swirl about whether Mr. Combs can pull off such a purchase. The songwriting performer and producer, who has propelled his Bad Boy Entertainment to the top of the hip-hop world, already has reached out to a handful of business leaders, venture capitalists and sports icons in seeking to create the treasure chest needed, according to numerous media report.
With an estimated personal net worth of $820 million and a hard-earned reputation as a shrewd businessman, Mr. Combs reportedly is creating an ownership group that would more closely mirror the racial makeup of the NFL players, 70 percent of whom are African-American.
Among those in the group Mr. Combs is assembling: Mr. Kaepernick and popular NBA star Stephan Curry of the Golden State Warriors.
Mr. Kaepernick is said to be linking Mr. Combs to potential investors, including current and former NFL players, agents and wealthy individuals.
The competition for a big piece of an NFL team is expected to be fierce, as NFL teams rarely come on the market.

But don't be surprised if Mr. Combs emerges as the winner, based on his personal philosophy: "A lot of times people see your dreams as crazy... Don't ever be afraid to dream."