Stallings family gets building permit for St. Luke project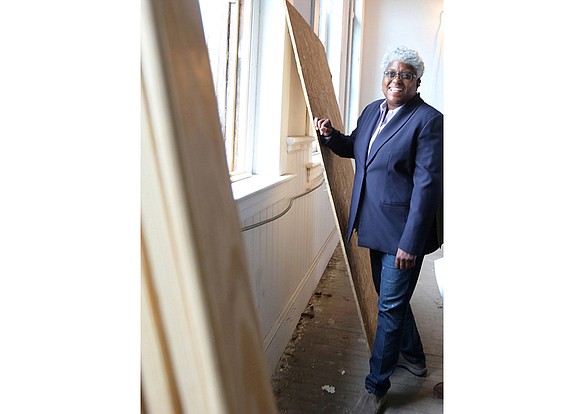 It took eight months, but Wanda Stallings and her development team now have a city building permit to begin the renovation of the historic St. Luke Building in Gilpin Court.
Ms. Stallings, who owns the building with her mother, Margaret Stallings, said the city issued the permit Dec. 6, enabling the team to begin development of the first eight apartments in the four-story building at 900 St. James St.
The Stallings are working with lawyer and developer Charles E. Ayers Jr. on the development.
Long vacant, the building was home to the Independent Order of St. Luke, a regional mutual beneficial group whose best known leader was Richmond businesswoman and icon Maggie L. Walker. Mrs. Walker founded a bank and other businesses on the order's behalf.
Mark Olinger, the city's director of planning and development review, stated that the city is moving forward on a special use permit for the remainder of the project. That permit would allow the Stallings group to develop 12 apartments in the St. Luke Building, commercial space on the first floor and two additional apartments in an adjacent building, Ms. Stallings has said.
Mr. Olinger stated that legislation for the special use permit is expected to be introduced at the Monday, Jan. 8, meeting of Richmond City Council.
The total project represents an investment of more than $3.2 million, Ms. Stallings has said, the single largest development in this area in decades.
The slow pace of city consideration of the project drew fire from Ms. Stallings and from City Council President Chris Hilbert, who represents the area.
Additional development is on the drawing board for the Gilpin Court area, including the conversion of the vacant Baker School building at St. John and Baker streets into senior apartments and construction of more than 150 apartments just south of Gilpin Court at 1st and Duval streets.
Both of those are part of the Richmond Redevelopment and Housing Authority's plan to replace the 200-unit Fay Towers that is part of the Gilpin Court public housing community that RRHA operates. RRHA is working with the nonprofit Community Preservation and Development Corp. of Washington to redevelop the former school building and create new apartments at the Duval Street site.
RRHA, though, has yet to begin any other development despite buying much of the private property that is adjacent to its public housing units in Gilpin Court.