One down
Trump's first year in office marked by controversy and protests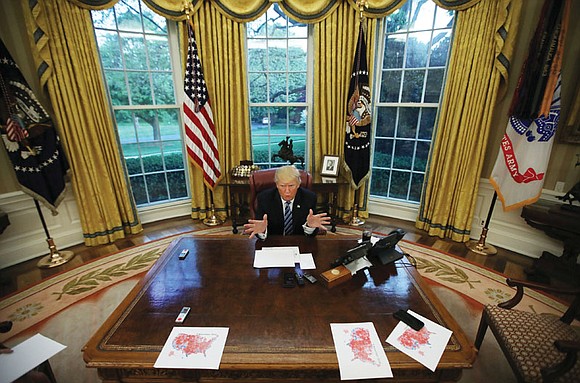 WASHINGTON
Less than 24 hours after Donald Trump took office, his presidency started generating controversy.
Photographs showing that the crowd at President Trump's swearing-in was smaller than at Barack Obama's first presidential inauguration in 2009 caused the first ruckus in his administration — but not the last.
President Trump's first year in office has been colored by an investigation into whether his campaign colluded with the Russian government to affect the election outcome, insults and threats of war with North Korea, and an effort to pass business-friendly legislation.
More than 20 of his senior White House staffers or cabinet members have been fired or resigned, including his national security adviser, acting attorney general, secretary of Health and Human Services, FBI director, chief of staff, press secretary and chief strategist to name a few. The list of the departed in less than a year far eclipses the staff turnover for previous presidents.
He has yet to host an official state dinner for visiting dignitaries and, according to published reports, President Trump has spent nearly a third of his first year in office at Trump-owned properties, including his latest 10-day Christmas vacation at the luxury resort he owns in Palm Beach, Fla., Mar-a-Lago.
From the start, the White House took a combative approach, accusing the media of framing photographs of the Jan. 20 inauguration in a way that appeared to understate the crowd size.
Former Press Secretary Sean Spicer argued that the images were not what they seemed and that crowds of historic size watched President Trump take the oath of office.
Protests would become a hallmark of President Trump's first year. On Jan. 21, the day after the inauguration, hundreds of thousands of women — and men — jammed the streets of Washington to demonstrate in opposition to President Trump.
A week after taking office, the Republican president signed an executive order to prevent citizens of seven predominately-Muslim countries from traveling to the United States. Known by critics as the "Muslim ban," protesters quickly demonstrated at airports in opposition.
President Trump would ignite protests again in August, when he was asked to respond to white nationalists, neo-Nazis and Ku Klux Klan members marching in Charlottesville, including one who drove his car into a crowd of counterprotesters, killing a woman. The president argued there were bad people "on both sides."
Following his remarks, business leaders resigned from President Trump's business councils and the panels were disbanded.
A defining feature of President Trump's first year in office was the investigation into whether his campaign colluded with Russia during the election.
He ignited a political firestorm in May when he fired FBI Director James Comey, who had been leading an investigation into possible collusion by the Trump presidential campaign with Russia to influence the election outcome. Russia has denied meddling in the election and President Trump has denied any collusion.
Soon afterward, the Justice Department named former FBI chief Robert Mueller as special counsel to lead the investigation.
Paul Manafort, who briefly served as Trump's campaign manager, and his business associate Rick Gates of Richmond were indicted by Mr. Mueller's team in October, accused of illegally lobbying on behalf of foreign governments.