Bank branch to close in Highland Park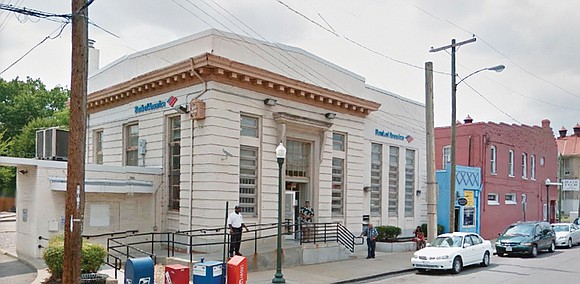 The last Bank of America branch located in a majority African-American neighborhood of Richmond is scheduled to close in two months, according to the bank's website.

The branch at 1307 E. Brookland Park Blvd. in the Highland Park community in North Side has been a fixture for decades.
Created by banks long ago absorbed into Bank of America, the branch has hung on through hard times, when the community was more of a hotbed of crime than retail commerce.
Now Bank of America is pulling out just as crime ebbs and the area experiences a wave of new growth and development.
Richmond City Councilwoman Ellen F. Robertson is mounting a community effort to save the branch that she calls "a vital resource," given residents will have to walk or ride two to three miles to conduct banking business.
On Tuesday night, she held a strategy meeting to start a campaign of calls and letter writing to encourage bank officials to rescind the decision to close the branch.
However, it appears unlikely that Bank of American would be interested in reversing its decision.

The Highland Park branch is the latest to be impacted by the bank firm's seven-year-old strategy of paring branch numbers as a result of the Great Recession and a shift in the way consumers bank.

While other major banks also have been reducing the number of branches, Bank of America has been the most aggressive, financial publications have reported.
Bank of America has eliminated at least 1,400 branches nationwide since 2008, going from 6,100 branches at its peak to 4,629 last fall, according to the bank's reports.
Bank officials have justified the closings by pointing out the sharp increase in customers banking by computer or mobile phones or through upgraded ATMs that can accept deposits as well as dispense money.
Last year, the bank reported that it had 21 million customers actively using their cell phones to bank, with18 percent of deposit transactions being completed over smartphones.
"That's better for customers. It's also better for our shareholders," said Brian Moynihan, Bank of America chairman and chief executive officer. "It's one-tenth the cost of walking into a branch."
Still, in Richmond, the closing decisions Bank of America has made in recent years appear to have a racial tinge.
Outside of the largely white financial district in Downtown, Bank of America's Highland Park branch is the only branch east of U.S. 1 in South Side or North Side, according to the bank's branch location maps. The neighborhoods east of U.S. 1 generally are majority African-American or Latino.
Once the Highland Park branch closes, Bank of America customers would need to go Downtown, to Broad Street in the West End, to Stratford Hills in South Side or a few other western areas in the city's South Side or to Henrico or Chesterfield counties to find a branch.
Bank of America did not respond to a Free Press request for comment.
However, predominantly black neighborhoods in many cities have long been void of regional and national bank branches along with outlets of major retailers and grocery chains.
Financial analysts point to the cost savings Bank of America has achieved, but also note that the company has needed to do so to make up for the huge legal costs the bank has incurred in fighting multiple lawsuits related to problem mortgages that resulted in the 2008 financial meltdown.
Fewer branches means Bank of America needs fewer employees to handle routine services like deposits that customers can do themselves.
However, Mr. Moynihan noted that the bank's surviving branches are gaining more specialists in mortgages and investments to meet customer demand for face-to-face assistance in buying homes, saving for college and investing in retirement accounts.