Richmond's banking desert grows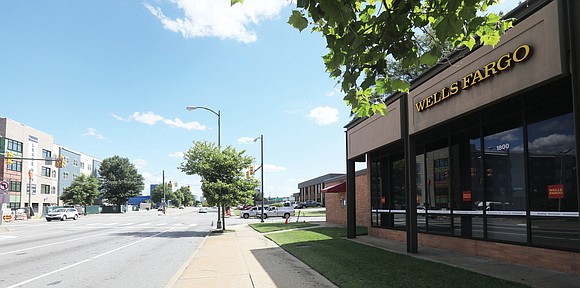 Outside of Downtown, the eastern half of Richmond – which tends to be largely African-American and Latino—has increasingly become a banking desert, bereft of branch banks that are more commonplace in the Downtown and western half of the city.
The last full-service bank branch operating north of Downtown and east of Brook Road is now set to close in 90 days, continuing a trend that began years ago when the area's only Black-owned bank, Consolidated Bank, closed all but its Downtown branch. Consolidated was later sold and is now Premier Bank.
The areas the banks are leaving also are often cited for lack of name-brand grocery stores and tend to attract fewer national and regional retail outlets.
The formation of new community banks and the arrival of larger out-of-town banks has not made any difference, with the newcomers avoiding the city's eastern half. If they go east, they locate in Henrico County.
Wells Fargo is now the last bank to leave the eastern half of the city north of the James River. The bank has provided a 90-day notice it that it will close its branch at 1800 Chamberlayne Ave. at noon Wednesday, Sept. 8. Based on the announcement, the shutdown will include the automated teller machines, or ATMs, at the site.
According to the bank, Wells Fargo customers still will have access to a full-service branch either at 2nd and Grace streets or at its other locations along Broad Street. The bank also noted that customers of the Chamberlayne Avenue branch could switch to using the bank's online and digital applications, as many already do.
Ahead of the city branch's closure, Wells Fargo in two months also will close a Henrico County branch located at 5610 Brook Road in the Brook Run Shopping Center. That branch is to close Wednesday, Aug. 11, with customers encouraged to use another Wells Fargo branch at Brook and Parham roads.
"This is not an easy decision or one that we take lightly," Wells Fargo spokeswoman Maegan Lewis stated in response to a Free Press query. "While branches continue to be important, we're finding that more customers are using our wide range of digital capabilities, (with) more transactions happening outside the branch."
The Wells Fargo decision follows the closures in March of full-service SunTrust branches on Azalea Avenue and at 2500 E. Broad St. in Church Hill following the merger of that bank with BB&T to create the new Truist Bank.
That appears to leave an ATM that Bank of America continues to operate in a closed branch at 1307 E. Brookland Park Blvd. as about the only remnant of the once thriving branch banks in most of North Side and Church Hill.
North of the James, full-service bank branches and credit unions can still be found in Downtown, along Broad Street, in Carytown, in the Far West End and in the Hermitage Road area near The Diamond baseball stadium.
The major element of banking that now stands out in the eastern sector are the ATMs and cash machines in retail outlets that have become a mainstay for those with bank debit and credit cards.
South of the James, branch banks mostly cluster in the retail district of Forest Hill Avenue near Huguenot High School. Otherwise, there is little branch banking left.
As best as can be determined, the full-service operations in South Side that remain east of Westover Hills Boulevard include the Truist branch at 1200 Semmes Ave. and the Richmond Heritage Federal Credit Union's headquarters at Commerce Road and Bainbridge Street.