Love stories
2/10/2017, 10:08 p.m.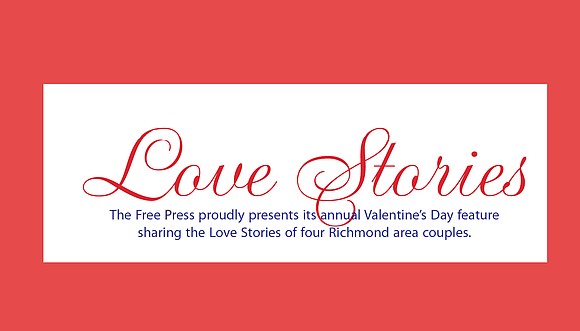 Reggie Gordon and Rashida Gray
Reggie Gordon and Rashida Gray
Our love story began in April 2010 with our first date. It took a month to schedule the date because of our active lives. And it was top secret.
We both were aware that meeting for a private dinner date was against the rule, yet we spent the evening sharing a candlelit meal at a small restaurant on the corner of Floyd Avenue and Robinson Street anyway.
We were members of the Dinner Club, a group of people who gathered each month at different restaurants around Richmond to enjoy good food and great company. We enjoyed the ease of the social network of the Dinner Club. However, the club had one rule — members could not date one another.

Within the first 10 minutes of that illegal first date, Rashida announced that she did not want to get married again; she was very busy with life and her children. Reggie replied that he did not want to get married again. He was also very busy and liked the rhythm of his life as a bachelor.


Although attracted to each other, we both wanted to make it clear from the outset that neither was interested in a serious relationship.

However, as the evening progressed, something beautiful and unexpected happened as we sat across from each other. As we talked and laughed and shared thoughts about life, we both realized that we were made for each other.

We discovered we both were born in September and shared a love of Indian food, beaches, yoga, dancing, public radio and family togetherness.




The first date led to many more special, romantic dates and travel adventures. Our relationship was uncomplicated and easy. Our souls recognized each other. Our hearts connected.

We got married on April 25, 2015, surrounded by family, friends and members of the Dinner Club.

Although it rained the entire wedding day, Reggie asked the limo driver to make a stop at Floyd and Robinson so as a married couple we could take a photo kissing under an umbrella at the place where our love affair began.
Reggie Gordon is director of the Office of Community Wealth Building, City of Richmond.
Dr. Rashida Gray is a psychiatrist with Bon Secours Richmond.
Ben and Annie Campbell
He says it started with "Blue, blue, stuck with you."
But she knew that couldn't be right. She only said those words to her family. It was a playful game with those she trusted. She would never say that to a stranger.

But when he told her later she'd pressed a crumpled church bulletin into his hands as she said it and kept on walking, she knew it must be true. That is how the game is played. But he wasn't family.
She says it started with lightning frogs. On a summer night she stood with a group on a porch. He was there. She saw lights blinking over the pond and heard a deep croaking.