Smarter than a third-grader?
Local students could give Trump some lessons
2/10/2017, 8:57 p.m.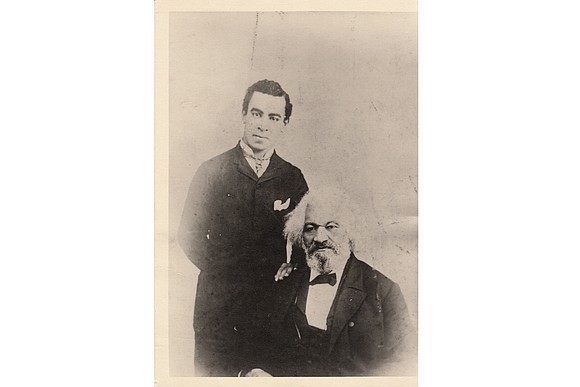 By Nichole M. Christian
Facts trump fiction.
They always have; they always will, even when it's the president of the United States spinning a tale that threatens truth.
This is what Faithe Norrell told herself as she made the choice to challenge comments by President Trump that led some people — not many — to believe that Frederick Douglass, the former slave turned author, newspaper publisher, abolitionist and radical activist, was suddenly alive.
"Frederick Douglass is an example of someone who's done an amazing job and is being recognized more and more, I noticed," the new Republican president declared last week in his first Black History Month event.
What President Trump failed to notice, Ms. Norrell and countless other African-Americans across the country quickly took to Facebook to point out — the facts: Mr. Douglass is dead. He has been for 122 years.
"It's just so pitiful; it really is,'' said the 65-year-old Ms. Norrell, a librarian at Fox Elementary School.
Ms. Norrell, also a proud student of African-American history and Richmond's in particular — she was formerly married to Maggie L. Walker's great-grandson — said she had no alternative but to share the truth and her direct connection to it.
She took to Facebook, writing a detailed post just after the president's puzzling comments.
"Black History fact: …Douglass died in 1895," she wrote.
"My grandfather's first wife was Douglass's granddaughter Anna," she continued. "She and their child died during an influenza epidemic. Douglass was the most famous runaway slave of his time because he wrote a book detailing the horror of slavery. He published the North Star newspaper read by Abraham Lincoln, Mark Twain and thousands of other people in America and Europe. Douglass also worked tirelessly to get women the right to vote. If you don't know, ask any first or second grade student at Fox School."
Along with her words, Ms. Norrell posted a treasured piece of proof: A family photo from the 1890s of her late grandfather, Charles Satchell Morris, with Mr. Douglass.
"Every student at this school has heard the story of my connection, not because it's my story, but because history is important," she told a reporter. "It's important to all of our lives."
If President Trump had been a student at Fox, Ms. Norrell said, he would have known the life story of Frederick Douglass through books such as "Rosetta, Rosetta, Sit By Me!" a historical novel by Linda Walvoord. The book is based on Mr. Douglass' oldest daughter and her struggles as a student in a segregated school. Ms. Norrell reads it aloud each year to first-, second- and third-graders.
"As a librarian, I can choose books that I want to read aloud. I try to make sure they're relevant in some way," she said.
Another selection that she'd recommend to the president: "The Golden Rule," a children's picture book by Ilene Cooper, which tells the story of a grandfather explaining to his grandson the importance of "do unto others as you would have them do unto you."
Of that choice, Ms. Norrell said, "I thought it was a reminder everyone could use because of all the things that have occurred so far this year."
Fortunately, Ms. Norrell said, none of her students have asked about President Trump's great disconnect with the facts of Mr. Douglass' life.
"It really is too pitiful to believe," she said. "He's the president of the United States of America. He should know the history. He should know the facts."