Fired or resigned?
Omarosa out at White House
12/29/2017, 12:20 p.m.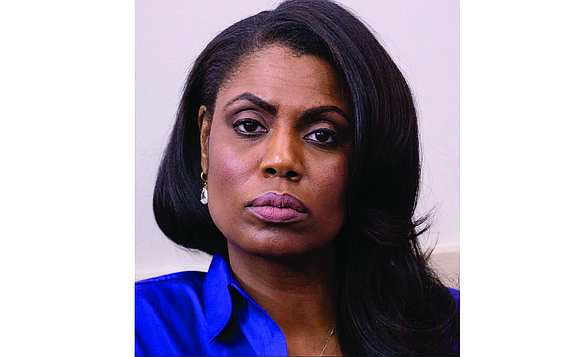 By Hazel Trice Edney
Omarosa Manigault Newman, who has resigned under duress from her public liaison job at the White House, is leaving true to form — amidst a cloud of controversy and with sparks flying. 
The White House confirmed her resignation effective Jan. 20. The official White House reason was that she is leaving to pursue "other opportunities."
"Thank you Omarosa for your service! I wish you continued success," President Trump tweeted about the Dec. 13 departure of Ms. Manigault Newman, who is best known by her first name since being a contestant 14 years ago on President Trump's television reality show, "The Apprentice." The two have been personal friends since then, and the president handpicked her to join his White House staff.
But the full circumstances surrounding her departure remain cloudy at best amid numerous reports that she actually was fired or forced to resign during a heated and cursing confrontation with retired Gen. John Kelly, President Trump's chief of staff. She has conceded only that there was a tense conversation with Mr. Kelly in the White House Situation Room.
Since he took the post in July, Mr. Kelly had limited Ms. Manigault Newman's access to the Oval Office, where she initially had the freedom to come and go.
During an interview on ABC News on Dec.14, the clearly angry Ms. Manigault Newman called the reports that she was fired "100 percent false." She then added that "as the only African-American woman in this White House senior staff, I have seen things that have made me uncomfortable, that have upset me, that have affected me deeply and emotionally, that has affected my community and my people." She said when she gets to tell her story of what happened in the Trump White House, it will be "a profound story that I know the world will want to hear."
Ms. Manigault Newman declined to comment for this reporting, citing the fact that she is still a White House employee. She said she was only allowed the interviews with ABC News.
Meanwhile, several black Republicans now claim that Ms. Manigault Newman blocked them from jobs in order to maintain her status as the "only African-American woman ... senior staff and assistant to the president" as she described herself in the ABC News interview. Her actual White House title is assistant to the president and director of communications in the White House Office of Public Liaison.
But her actual job description appears not to have been clearly defined. In interviews, several African-Americans blamed her for blocking black job applicants from opportunities within the Trump administration.
"I was blocked personally," said Eugene Craig of Maryland. "Essentially, my file was pulled. The official excuse was that I wasn't pro-Trump enough although I was the sitting chair of the Maryland Republican Party."
Sources said loyalty was among the top considerations for key White House positions. Mr. Craig acknowledged that he was a "never Trumper" during the campaign. But he said he noticed that when the time came for consideration for jobs, white Republican "never Trumpers" were given consideration while African-Americans were not.