'We are all refugees'
Richmond faith community calls for unity, action in face of Trump ban
2/10/2017, 9:15 p.m.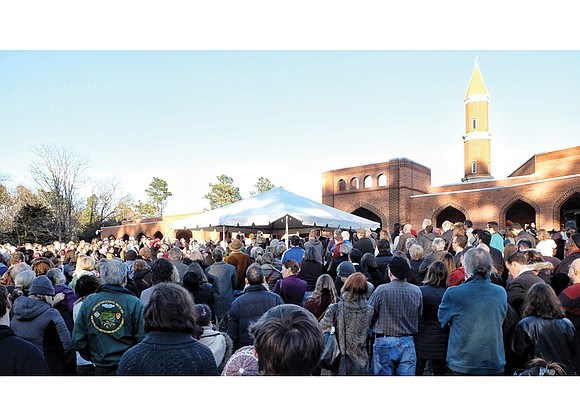 By Leah Hobbs
"We are all refugees," said the Rev. Wallace Adams-Riley of St. Paul's Episcopal Church. "We all have the blood of refugees flowing through our veins. The story of the refugee is a part of our story — the American story."
About 1,500 people from the Richmond faith community came together last Sunday to show support for their Muslim brothers and sisters in response to President Trump's executive order that stopped the entry of all refugees into the country and banned nationals from seven Muslim-majority countries from entering the United States.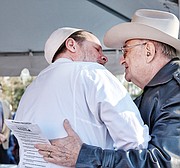 While the order created chaos at airports across the nation when people on arriving flights were denied entry, the crowd gathered at the Islamic Center of Virginia in Bon Air was inspired to find strength in diversity "Standing Together," as the program was called, Muslims, Christians, Jews, Hindus and non-religious people gathering in solidarity with the Muslim community.
"I cannot hide my face, speaking only when my rights are threatened," said Dr. Archana Pathak, a Hindu and faculty member at Virginia Commonwealth University, who was born in India and raised in the United States. She described how the Civil Rights Act of 1964, which was born of the struggle of African-Americans, also has benefited Asian-Americans because it broadly outlaws discrimination on the basis of race, color, religion, sex or national origin.
Ayesha Martinez, an African-American Muslim, said, "I was born into a society that hates me, if not for my religion, then for the color of my skin; and if not for the color of my skin, then for my gender."
Ms. Martinez and other speakers shared personal testimonies that challenged those gathered to question their assumptions. One speaker shared that it is an unrealistic assumption that refugees come to America as terrorists when, in fact, they are escaping their countries to seek shelter and safety.
Speakers shared how human beings have a natural tendency to categorize and determine what they are comfortable with, but things are not always as they appear.
Charles Turner said he doesn't fit the category of a Muslim based on his appearance or speech. He is a white man, but has been practicing Islam for nine years. He challenged the crowd to "show up just as you did today when someone else's lives are on the line."
President Trump's executive order, coupled with the Jan. 29 attack on the Quebec Islamic Cultural Centre in Quebec City, Canada, that left six dead and eight injured, has left the Muslim community fearful.
"Many members of our community are shocked by recent events," said Dr. Abu Qutubuddin of the Islamic Center of Virginia. "By your support, we are reassured that the hateful rhetoric doesn't represent the majority of people in our nation."
People pledged to stand together against division, bigotry and fear. They pledged to stand together to uphold the ideals of religious freedom, support immigrants and refugees, celebrate diversity, commit to peace and to take action.
"If human rights are denied any one of us, then all of us are in trouble. If we have a future where some are singled out, we are all in danger. It is our duty to stand together," said Imam Ammar Amonette of the Islamic Center of Virginia.