Marcus Hoosier gives VUU 'a nice push'
Fred Jeter | 2/17/2017, 7:47 p.m.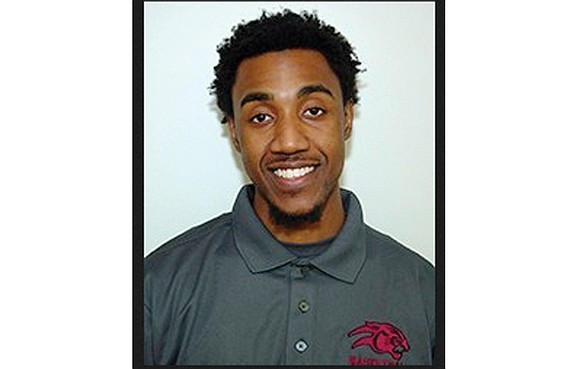 Virginia Union University's Panthers were a good basketball team without Marcus Hoosier.
They're an even better squad with him.
"We needed help at point guard and Marcus has given us a nice push," said VUU Coach Jay Butler.
The Panthers were 6-3 before Hoosier became eligible to play on Dec. 10 against Shaw University at the end of fall semester.
The Panthers have improved to 15-2 since then following an 83-64 victory at Lincoln University of Pennsylvania last Saturday.
The former Petersburg High School standout passed for 10 assists in 26 minutes as the primary ball handler against the visiting Bulldogs.
He dished nine assists in a win over Winston-Salem State University in early January.
Hoosier averages six points per game but is more comfortable with a play-making distribution plan.
"My role is to do whatever the team needs," said the lithe 6-foot-4 junior. "I just want to be a leader."
Coach Butler said, "He has the size and jumping ability to get to the rim. But he's also good at penetrating and kicking it out. He takes a lot of pressure off (guards) Ray (Anderson) and Kory (Cooley)."
Anderson leads the CIAA with a 17.8 scoring average and jacked his career bag to 1,823 with 22 points against Lincoln University.
Cooley averages 8.2 points per game and is the team's top 3-point threat, along with wing Jimmy Paige IV.  
Hoosier is accustomed to playing with big scorers and for big winners.
At Petersburg High, his teammates included Frank Mason III, now a candidate for NCAA Player of the Year as a University of Kansas senior.
"I can't help but laugh watching Frank on TV," said Hoosier. "It's because I know where he's from and what he's been through. We've stayed close by phone and Facebook and got together when he came home at Christmas."
Mason and Hoosier played together at Vernon John Junior High and also for Team Loaded and Petersburg Elite AAU travel teams.    
In Hoosier's three seasons playing with Mason at Petersburg High, the Crimson Wave went 81-7, which was 30-1 in 2010, 22-4 in 2011 and 29-2 in 2012.
Hoosier made All-Central District as a senior.
Other Petersburg High teammates were Du'Vaughn Maxwell, who went on to fame at Hampton University; Cadarian Raines, later the starting center at Virginia Tech; and Quinton Spain, now a lineman with the NFL's Tennessee Titans.
Petersburg High lost in the State Group AAA finals to I.C. Norcom High School of Portsmouth in 2010 and to Hampton High School in 2012, both times at Virginia Commonwealth University's Siegel Center.
Hoosier, who grew up in The Heights section of Petersburg, bounced around before enrolling at VUU a season ago.
He first enrolled at Virginia State University, but never suited up for the Trojans.
"Just too close to home," he said. "Plus, the coach (Darryl Jacobs) I went there to play for resigned."
From VSU, Hoosier played two seasons at Southside Virginia Community College in Alberta. He was named Most Outstanding Player after leading the Southside Panthers to the 2015 National Prep Championship in North Myrtle Beach, S.C.
Southside plays a combination of junior colleges, prep schools and postgraduate programs.
After enrolling at VUU, Hoosier did not play while rehabilitating from a knee injury.
Helping to lure Hoosier to VUU was Panthers Assistant Coach Robert Johnson.
Hoosier and Johnson crossed paths while Hoosier was playing at Petersburg and Johnson was coaching at L.C. Bird High School in Chesterfield County. They also knew each other from the AAU circuit.
Coincidentally, Coach Johnson's eldest son, Robert Johnson Jr., is a starting guard for the Indiana University Hoosiers.
VUU's Hoosier is oft kidded about his surname and asked if he has seen the 1986 movie "Hoosiers" about tiny Milan High that won the Indiana state basketball championship.
"Yes, I've seen (the movie) many times," he said with a smile. "People tell me Hoosier is a basketball name."
Just because you're named Hoosier doesn't mean you can play a lick of basketball. But in Marcus' case, he has both the name and the game.