Hampton U cancer treatment center may get boost from General Assembly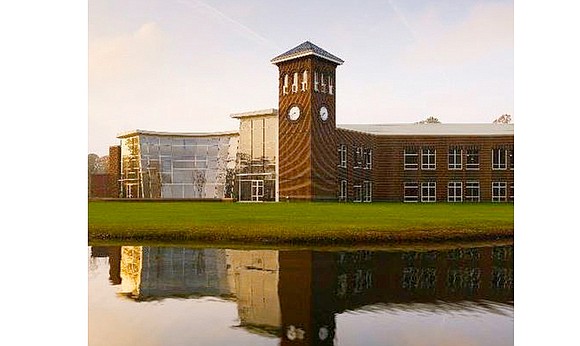 The Virginia General Assembly is poised to hand Hampton University a major victory in its bid to boost the use of its seven-year-old, $225 million cancer treatment center that uses proton beam radiation therapy to help eradicate the disease in its patients.
A bill now moving through the legislature is expected to aid the university to overcome the reluctance of major insurance companies to cover the use of proton beam therapy, particularly in the treatment of prostate cancer and possibly breast cancer.
That could potentially boost the number of patients receiving treatment at the center from around 60 people a day to more than 100 a day and make it easier to finance development of another proton beam treatment center that INOVA and the University of Virginia are planning in Northern Virginia.
While Medicare, Medicaid and other government insurance, as well as many Blue Cross plans, cover the FDA-approved treatment, insurers including Anthem, Aetna, Cigna and Humana continue to label the therapy as experimental, giving preference to other forms of radiation treatment, such as intensity modulated radiation therapy that involves use of X-rays.
Insurers, as well as many physicians, argue there is a lack of evidence-based studies to show that proton beam therapy is worth the far higher expense when compared with results from other forms of radiation treatment that are less costly.
However, advocates note that the same insurers that refuse to cover treatment in Virginia are willing to provide coverage for patients that travel to proton therapy centers in other states.
The bill would not mandate coverage, but would bar insurers from holding proton beam therapy to a "higher standard of clinical evidence" than other therapies in making decisions on coverage.
The measure would put proton beam therapy on the same footing as other treatments, potentially eliminating the experimental label.
In a bipartisan show of support, the House of Delegates has passed the bill by a wide margin. And on Monday, a Senate committee voted 13-0, with one abstention, to send the legislation to the full Senate over the objections of the insurance companies, suggesting it would likely pass the upper chamber with bipartisan support.
To advocates who believe in the treatment, the win would be huge for cancer patients whom they believe could gain access to a life-saving treatment that avoids many of the side effects of other treatments and the effects of surgery.
That's the argument that has been driving Bill Thomas, associate vice president at Hampton, who has spent four years trying to persuade Republicans and Democrats to embrace this kind of legislation.
In his view, proton beam therapy offers patients the best chance of survival with the fewest long-lasting impacts, including less damage to surrounding tissue because the beam can be tightly targeted to the diseased tissue.
He is passionate because he watched three members of his family die of cancer despite being treated with more conventional therapies. He said his mother and father suffered in agony from their cancer treatment that he believes might have been avoided if proton beam therapy had been available.

In his view, expanding the use of proton beam therapy would particularly help African-American men who are two times more likely than white and Asian men to develop prostate cancer and two to five times more likely to die from that cancer than other groups. He said because of the insurance blockade, many such patients are never told about proton beam therapy as an option.
Proton beam therapy was developed in the 1950s, but has taken off for cancer treatment after hospitals in California and Massachusetts began offering it the early 1990s. Refinements have helped centers like Hampton better target the beam, and numerous hospitals across the country are now competing to add such centers, even though the therapy is still not supported by a consensus of the medical community.
The treatment seems to have gained its greatest traction in handling malignant brain tumors in children as well as for complicated head, neck, throat and spine tumors. The main reason, according to proponents: The therapy can minimize the radiation impact on nearby structures, such as the eyes, mouth and brain, allowing vision, smell, taste and swallowing to remain virtually untouched.
However, many specialists in prostate cancer are less convinced about the efficacy of proton beam therapy in treating that disease.
Insurers, too, have been skeptical.
Scott Golden, a spokesman for Anthem, said the insurer covered the therapy until 2016 when it pulled back after finding "no clear scientific evidence that proton beam treatment for localized prostate cancer is equal to other forms of conventional photon radiation therapy," such as IMRT, or intensity modulated radiation therapy.
Mr. Golden noted that at least two groups, the American Society for Radiation Oncology and the National Comprehensive Cancer Network, "no longer consider proton beam therapy an appropriate choice in treating localized prostate cancer."
Anthem has urged state legislators to wait for results from head-to-head clinical studies comparing proton results with that of other forms of radiation therapy.
However, there have been some impressive published studies, including one from Florida in 2014 that Mr. Thomas presented to persuade legislators that proton beam therapy, even if more expensive than ordinary radiation, deserves more respect.
The study from the University of Florida Proton Therapy Institute found that 99 percent of men who received the therapy for early and intermediate-risk prostate cancer are "living cancer-free and with an excellent quality of life" — results Mr. Thomas said have been seen at the Hampton University center.
The study also reported that "three-quarters of those with high-risk prostate cancer are also disease-free" five years after treatment.
Such results "compare very favorably with IMRT results, particularly for intermediate-risk disease, where disease control rates of 70 to 85 percent are typical," the study reported.
Mr. Thomas said that even if the bill is approved, there would be more for Hampton to do to educate physicians and the public to consider this option. But at least, he said, the barricade by insurers would be gone.