Personality: Edward H. Baine
Spotlight on recipient of the Anthony R. James Legacy Award
2/23/2017, 10:51 p.m.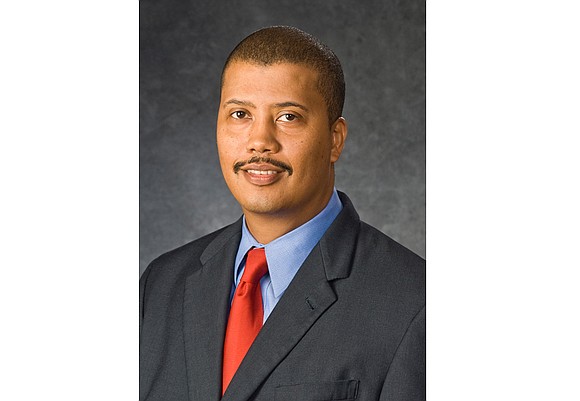 Date and place of birth: Oct. 15 in Lunenburg County.
Current residence: Fox Creek in Chesterfield County.
Alma maters: Virginia Tech, B.S. in electrical engineering; advanced management program at the Fuqua School of Business at Duke University.
Family: Wife, Kim Baine, and three sons, Kyle, Jalen and Cameron.
What the Anthony R. James Legacy Award means to me: Recognition of all of the efforts of family and friends who have supported me, for the encouragement from schools and my community and from Dominion. All of them enable me to give back in a meaningful way.
What motivates me: Understanding all of the sacrifices that have been made for me and that I need to be relentless in making the most of it. It is also remembering what I have been taught from an early age from the Bible, "To whom much is given, much is expected." Ultimately, when my time is done, I hope that my God and my family will say, "Well done."
What it takes to become an engineer: Focus on learning as much as possible, especially in math and science, and stay focused on your goal. I would tell any child that if that is your dream, you can make it happen.
Why I decided to become an electrical engineer: In high school, one of my math teachers told me that she thought I would be good at engineering. She was also the math coach for our program that is equivalent to the "Battle of the Brains" competition in the Richmond area. Also, when I wasn't working on the tobacco farm with my family and grandfather, I would work with my other grandfather doing electrical and plumbing work. The combined experiences helped me to decide to become an electrical engineer.
Why I find it interesting: I like the challenge of solving complex problems.
Principles I always follow when I give advice: I am always clear that my advice is a point of view. You may not agree with all of it and some of it may not work for you. But it is wise to take input from people, figure out how it may work for you and use it to create your own style.
Management style: Humble yet competitive. Servant leadership — work to make the organization successful.
First engineering position: Virginia Power in Fairfax.
What I remember most about it: Even though I had a degree, there was a lot that I needed to learn. Working for a public utility, you can clearly see the impact of your work.
Advice to aspiring engineering students: Don't give up. It gets tough sometimes, but don't be afraid to ask for and seek help. None of us can do it alone.
How I start the day: On good days, with exercise before I go to work and thinking about what are the most important things for me to get done today. Of course, that can change during the day, but at least I start with a plan.
How I unwind: Time with family and friends.
I place top value on: Faith and family.
Best late-night snack: Grapes and cheese when I am behaving, but my nemesis is potato chips.
What makes me tick: I never want to let people down.
Hobbies: Sports and hunting.
Prized possession: My family.
The one thing I can't stand: Selfishness.
Three words that best describe me: Quiet, humble, driven.
Person who influenced me the most: My mother.
The best thing my parents ever taught me: To be appreciative and respectful.
If I had more time, I would: Read more.
What I'm reading now: "It's Your Ship: Management Techniques from the Best Damn Ship in the Navy" by Capt. D. Michael Abrashoff.
My next goal: Family goal — get my eldest son into college.