Trump decries anti-Semitism, racism after D.C. museum visit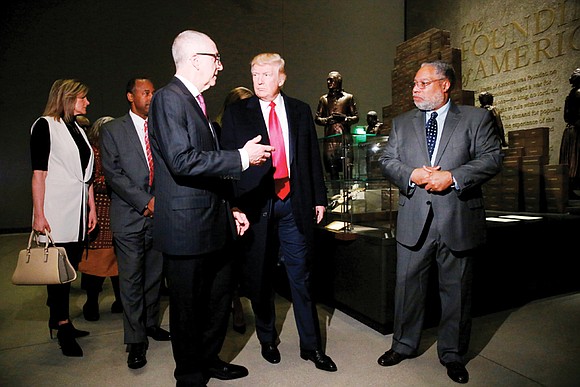 Free Press wire reports
WASHINGTON
President Trump called anti-Semitic violence "horrible" and vowed on Tuesday to take steps to counter extremism.
His remarks, made following a visit to the Smithsonian's National Museum of African American History and Culture, comes on the heels of wide criticism that the White House had not clearly denounced vandalism and threats targeting Jewish institutions.
Hours before President Trump's remarks, Democrat Hillary Clinton called on her former presidential rival to speak out against anti-Semitic acts after more than 170 Jewish graves were found toppled at a cemetery in University City, Mo., and a fourth wave of bomb threats against Jewish community centers in several states.
"The anti-Semitic threats targeting our Jewish community at community centers are horrible and are painful and a very sad reminder of the work that still must be done to root out hate and prejudice and evil," the president said.
He called the tour a "meaningful reminder of why we have to fight bigotry, intolerance and hatred in all of its very ugly forms."
The remarks also appeared aimed at easing pressure on the Trump administration, which faces claims from opponents that it has failed to distance itself from extremist ideology and has emboldened right wing groups. Indeed, his presidential campaign and administration have used anti-Semitic, anti-Muslim, anti-immigrant and racist tropes and language, critics claim.
The condemnation came too little, too late, Jewish groups said.
"The president's sudden acknowledgement is a Band-Aid on the cancer of anti-Semitism that has infected his own administration," Steven Goldstein, executive director of the Anne Frank Center for Mutual Respect, said in a statement later Tuesday.
"President Trump's condemnation this morning of anti-Semitism is as welcome as it is overdue," said Rabbi Jonah Dov Pesner, in a statement issued on behalf of the Reform Movement, the largest stream of American Judaism.
The statement criticized the president as "inexcusably silent as this trend of anti-Semitism has continued and arguably accelerated." 
In all, at least 69 incidents at 54 Jewish community centers in 27 states and one Canadian province have been reported, according to the JCC association.
Monday's revelations about the Missouri cemetery desecration and more bomb threats against Jewish community centers drew a tweeted response from President Trump's oldest daughter, Ivanka, a convert to Judaism, and elicited comments from a White House spokesman, neither of whom used the phrase "anti-Semitism" or mentioned Jews.
Ivanka Trump's tweet: "America is a nation built on the principle of religious tolerance. We must protect our houses of worship & religious centers. #JCC"
Jonathan Greenblatt of the Anti-Defamation League then sent out his own tweet stating Jews need to urge President Trump to "step forward & share a plan" to stop anti-Semitic actions.
However, the president's critics point to several actions by President Trump that they contend give tacit approval to hate groups. Among them:
• President Trump's refusal to denounce prominent anti-Semites who endorsed him, including former KKK Grand Wizard David Duke and Richard Spencer, who has publicly proclaimed, "Heil Trump!"
• His use of Jewish stereotypes on the campaign trail, characterizing Jews as dealers and moneymakers, pulling the strings of government.