President's family gets special dispensation to fly on Sabbath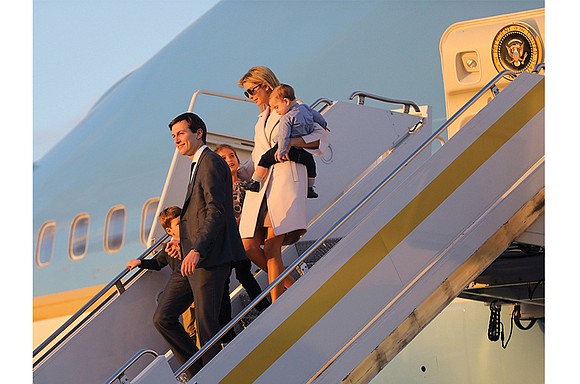 By Michele Chabin
Religion News Service
JERUSALEM
When it comes to Jewish observance, Jared Kushner and Ivanka Trump may be in a class by themselves.
An unnamed rabbi gave special dispensation to President Trump's daughter and son-in-law, both Orthodox Jews, to fly to Saudi Arabia on Air Force One with President Trump on Friday, May 19, Politico reported, quoting a White House official.
It's the second time the couple is known to have received a dispensation to travel during the Jewish Sabbath. They were allowed to ride in the presidential motorcade on the night of President Trump's inauguration on Jan. 21, which also fell on the Sabbath.
Orthodox Judaism prohibits traveling in vehicles after sundown on Friday night until Saturday night. The prohibition does not cover life-threatening emergencies, including when a woman goes into labor.
Religiously observant Israeli leaders have sometimes received dispensations to conduct urgent business on the Sabbath, and soldiers and other security personnel can carry out tasks like driving and writing that ordinarily are forbidden.
In her book, "Women Who Work," Ms. Trump, who underwent an Orthodox conversion in 2009, wrote about how her family observes Shabbat.
"During this time, we disconnect completely — no emails, no TV, no phone calls, no internet. We enjoy uninterrupted time together and it's wonderful," she said.
President Trump's nine-day trip, the first since he became president, has taken him to Saudi Arabia, Israel, the Vatican and other parts of Europe. Mr. Kushner reportedly organized much of the visit to Saudi Arabia, the first stop on the president's itinerary.