New state highway markers to honor 4
1/6/2017, 9:55 p.m.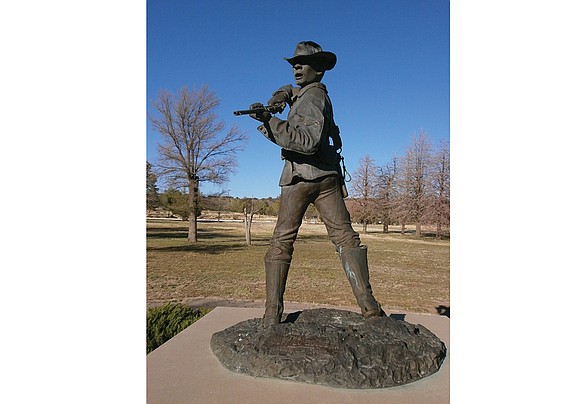 Upset that African-American students had to walk miles to their segregated schools in Hanover County, Lucian Hunter took action.
In 1934, he bought a bus to transport the students at a time when many Virginia school systems used taxpayer dollars to provide transportation only to white children.
Largely forgotten until now, Mr. Hunter is one of four African-Americans who will be recognized on newly approved state historical highway markers.
In addition to a marker honoring Mr. Hunter, the new markers to go up this year will call attention to a heroic Buffalo Soldier, an educator who touched the lives of thousands of students and helped incorporate Alpha Kappa Alpha Sorority and a daring Tuskegee Airman.
The marker to the late Mr. Hunter is planned for placement on U.S. 1 in Ashland, just north of its intersection with state Route 54, according to the state Department of Historic Resources.
The department recently authorized the new series of markers that will dot the state.
According to the marker sponsored by family members, Mr. Hunter bought the first bus for African-American students with help from the Chickahominy Baptist Association to which area African-American churches belonged.
The marker notes that Mr. Hunter's sons, Clarence, Earl and Chester Hunter, drove the bus that initially carried students to and from the Hanover County Training School.
A year later, Mr. Hunter and others successfully lobbied the Hanover County School Board to provide financial support for the bus service, which eventually was expanded to served other segregated schools for African-American students. The county's schools remained segregated until 1969.

Another marker will recall the bravery of U.S. Army Cpl. Clinton Greaves, a Buffalo Soldier who won the Medal of Honor for saving the lives of comrades during combat with Apache Indians on Jan. 24, 1877, in New Mexico. (Indians coined the term "Buffalo Soldiers" to describe African-Americans in the military because of their tight curly hair.)
While a U.S. Army base in South Korea is named for him, Cpl. Greaves previously has garnered little attention in his Virginia birthplace, Madison County, until now.
The Madison American Legion Post No. 157 is sponsoring the marker to Cpl. Greaves, who was born into an enslaved family and went on to serve with distinction with the segregated 9th Cavalry, according to the marker.
His big moment, the marker states, came when he was part of a small detachment sent to persuade 50 Apaches to return to a reservation. The cavalry group was surrounded instead. Cpl. Greaves is credited, the marker states, with engaging in hand-to-hand combat to create a gap in the Apaches' line that allowed him and his comrades to get away.

Two years later, President Rutherford. B. Hayes awarded Cpl. Greaves the Medal of Honor for his "extraordinary heroism," leading to the Army generations later naming the base in his honor and dedicating a statue to him on the property.
The marker honoring him is to be placed on Main Street in Madison.

Also being remembered with a marker is the late Nellie Pratt Russell, who taught English for 50 years at now defunct St. Paul's College, which was founded by her father-in-law, Episcopal priest James Solomon Russell.