Personality: Roslyn C. 'Roz' Tyler
Spotlight on new chair of Virginia Legislative Black Caucus
1/13/2017, 5:31 p.m.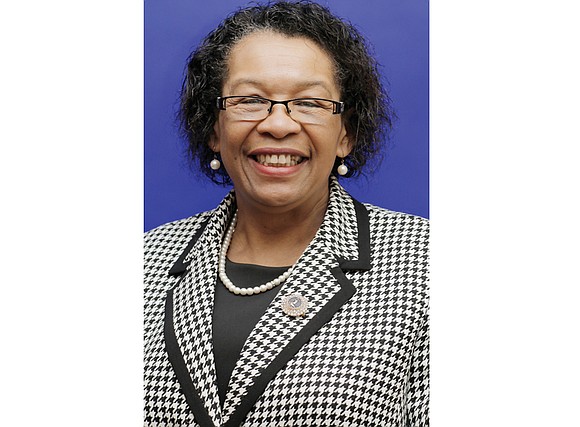 Delegate Roslyn C. "Roz" Tyler of Sussex says she has always wanted to help people. Since 2006, the 56-year-old has represented a district in the House of Delegates that runs from Dinwiddie County to Emporia and Isle of Wight County.
She now holds a top leadership role as chairwoman of the Virginia Legislative Black Caucus. She says she took on the new role because she wants African-Americans and other underrepresented groups to continue to have a strong voice in Virginia's legislative process.
The 2017 Virginia General Assembly started Wednesday and will consider laws impacting all facets of life for Virginians. The VLBC, with 18 members, plans to put forth an aggressive agenda during this year's legislative session. Among them are expansion of early voting in Virginia, increasing the minimum wage and more funding for K-12 public education and higher education.
When she isn't helping to shape the Virginia legislature, Delegate Tyler, a professional physical therapist, is a clinical coordinator of rehabilitative services at Southern Virginia Regional Medical Center in Emporia.
She was drawn to the profession after observing the care her mother received as she recuperated from a stroke. "I was impressed with the motivation and encouragement of the physical therapists because they helped my mother return to a functional lifestyle," she says.
Delegate Tyler says the encouragement of her family has been a great motivator and helped fuel her success in public and private life.
"I felt that this was a career that I could enjoy because it presented an opportunity for me to make a difference," she says. Delegate Tyler recommends that people make a difference by letting their voices be heard during this legislative session. She says people can find out what the issues are and what legislators are proposing and how they vote on issues by visiting the General Assembly website: www.virginiageneralassembly.com.
The site also provides information on how to get in touch with all 140 of Virginia's lawmakers via telephone, email and mail.
Meet an advocate for the people and this week's Personality, Delegate Roslyn C. "Roz" Tyler.
Latest leadership role: Chairwoman, Virginia Legislative Black Caucus.
Duties of position: To make sure we continue to address issues that affect our economic, education, political and social positions for African-Americans and other underrepresented groups.
Date and place of birth: July 18 in Emporia.
Current residence: Sussex County.
Alma maters: Bachelor's in biology, Virginia State University; bachelor's in physical therapy, Old Dominion University; and master's in education, Virginia State University.
Family: Husband, Rufus Tyler Sr.; four children, Rufus Tyler Jr., Ronecia, Rosche and Rameka; and one granddaughter, MacKenzie.
How long a member of the Virginia House of Delegates: Since 2006.
District she represents in the legislature: 75th District, which includes the City of Emporia and part of Franklin, Greensville and Brunswick counties and part of Dinwiddie, Isle of Wight, Lunenburg, Southampton, Surry and Sussex counties.
Why I accepted chairmanship of Virginia Legislative Black Caucus: I wanted to continue to provide the leadership needed to make sure that the Legislative Black Caucus continues to have a strong voice in the Virginia General Assembly and in the Commonwealth.