5 African-American women hold senior, leadership positions at VMFA
7/14/2017, 11:02 a.m.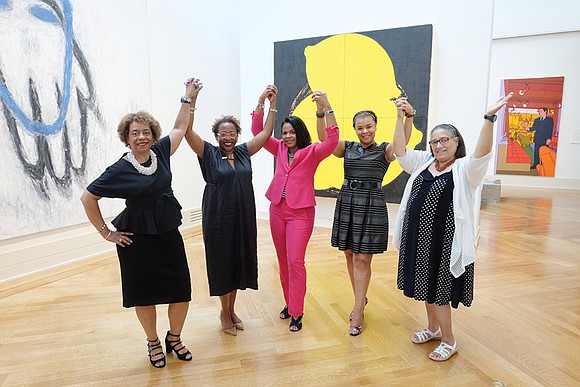 By Holly Rodriguez
In 2015, only 4 percent of the curators, conservators, educators and leadership staff at art museums in the United States were African-American, according to a recent survey by the Andrew W. Mellon Foundation.
Recent hires at the Virginia Museum of Fine Arts are bucking that trend. Five African-American women now occupy leadership and senior level positions at the publicly supported museum on the Boulevard in Richmond.
They are:
• Hazel Duncan, who was named director of finance and accounting of the VMFA Foundation in January;
• Jan Hatchette, who became deputy director for communications in April;
• Valerie Cassel Oliver, who began earlier this month as the Sydney and Frances Lewis Family Curator of Modern and Contemporary Art;
• Kimberly J. Wilson, who was hired as deputy director for human resources, volunteers and community service in December 2015; and
• Paula Saylor-Robinson, who, since 2015, has been director of audience development and community engagement.
The wave of hiring African-Americans in these key positions began with the hiring of Ms. Wilson in 2015, according to the director of the VMFA.
"We are the ninth largest comprehensive art museum in the United States, and we doubled our staff size when we opened in 2010," said museum Director Alex Nyerges. "But we did not increase our human resources function."
Ms. Wilson, he said, clearly stood above the rest of the candidates being considered in 2015 when the museum created the deputy director for human resources position.
He said part of the museum's strategic plan is to have "a workforce, leadership and collection that reflects who we are as Richmond and Virginia."
He said by casting a wider net with the help of Ms. Wilson's connections, VMFA was able to find the four other women.
"The more diverse we can be," he said, "the better we represent the community at large, the better we will be as an organization."
Ms. Wilson said her responsibilities in recruitment are an ongoing conversation with everyone she works with, from interns to individuals on search committees.


"I've had to think of the culture of VMFA and how best to retain" employees, she said. "It's easy to hire, not necessarily easy to retain."
Ms. Hatchette, a native of Chesterfield County, said the museum has evolved. She said she was wowed during the hiring process by the museum's goal of diversifying its audience.
"This place is a completely different place from when I was a middle-schooler," she said. "There is something happening here for everyone all of the time, and it goes beyond what is on the walls to the outside of the building."
Ms. Wilson and Ms. Hatchette both have backgrounds in higher education, a bonus that will contribute to the museum's focus on expanding education opportunities for patrons of all ages.
Prior to joining VMFA, Ms. Wilson was the executive director of human resources and client services at George Washington University. She also has worked for University of Richmond and Howard University.
Ms. Hatchette began her career as a public relations officer for Central Fidelity Bank, now Wells Fargo. She worked for 17 years at the University of Richmond, most recently as senior director of marketing strategy and services, where she led efforts to develop and implement integrated strategic marketing communications to enhance the university's brand and reputation.
Ms. Saylor-Robinson worked at Ipsos market research firm as director of qualitative research and client services before she began at VMFA.
Ms. Duncan was with the Longwood University Foundation prior to joining the VMFA staff. During her 12 years there, she started as treasurer, working her way up to chief financial officer and executive director.
She previously worked in finance and related functions for nonprofit agencies in New York and in Central Virginia. She was the first in her family to earn a college degree. She also earned an MBA.
Before accepting the position at the VMFA, Ms. Cassel Oliver worked for 16 years at the Contemporary Arts Museum Houston. Her first priority in her new role at VMFA is to review the modern and contemporary art holdings and develop a collection plan. A major focus will be to add more works by African-American artists and artists in the African Diaspora.