Faith group opposes Trump on voting data request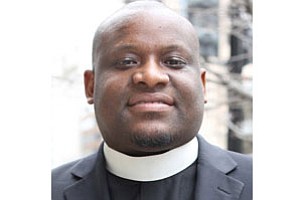 Free Press staff, wire report
A national network of progressive faith organizations is rallying support for officials in Virginia and 43 other states and the District of Columbia who have rebuffed a Trump administration effort to collect detailed personal information on voters as part of a probe of alleged voter fraud.
Called the "Live Free Campaign," the two-year-old, California-based network led by the Rev. Michael McBride views the federal effort as an attempt to undermine hard-won voting rights.
"The faith community believes democracy is at risk," Rev. McBride stated in a release sounding an alarm over the Trump initiative.
"The right to vote, secured decades ago with the blood of black folks and their supporters, is being threatened by the Trump administration," the minister stated on behalf of Live Free, an arm of the nonprofit Pacific Institute for Community Organization.
The president, who has claimed that millions of people voted illegally and cost him a majority of the popular vote in the November 2016 presidential election, has set up the Election Integrity Commission and named Kansas Secretary of State Kris Kobach to lead the commission's probe.
Although no state or national group has found evidence to support the president's claim of widespread voter fraud in the election, the commission is moving ahead despite concerns that it is acting in secret and failing to maintain required public records, a concern the American Civil Liberties Union made public Monday when the watchdog organization filed suit seeking to force the commission to comply with a federal open meeting law.

The commission's first act has been to demand officials in all 50 states and the District of Columbia turn over voter records, including partial Social Security numbers. The request has been met with bipartisan resistance from most Republicans and Democratic officials who oversee voting operations in various states.
Because states are in charge of voting operations, it is unclear whether the commission has the authority to obtain the records without permission of state officials charged with their safekeeping.
In Virginia, Gov. Terry McAuliffe has been outspoken in rejecting the commission's request as a waste of time and resources.
Rev. McBride agrees.
"This sort of meddling in state affairs serves no legitimate interest," Rev. McBride said. "On the contrary, it's an attempt to undermine democracy. We urge all people of faith and lovers of justice to reject this strategy of voter suppression."
Rev. McBride began organizing Live Free with PICO support as a faith response to the upheaval over a police officer's killing of unarmed teenager Michael Brown in Ferguson, Mo., in August 2014.