Personality: Lawrence D. 'Larry' Wilder Jr.
Spotlight on board chair of the Southside Community Development and Housing Corp.
6/9/2017, 12:12 p.m.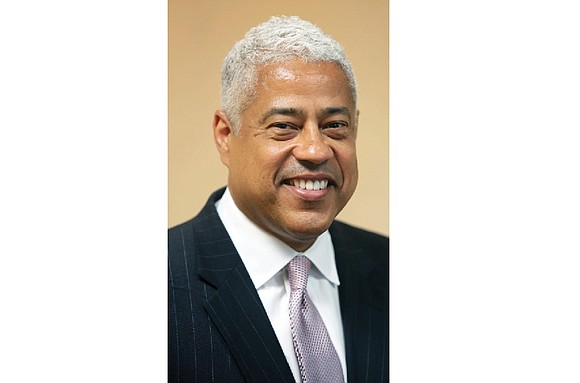 "In a nutshell, affordable housing developers need for more nonprofits to figure out how to become self-sustaining," he says. "One way is through venture funding that will fund projects for not just one year, but two or three, enabling us to get more funding at better rates over time, having a better impact, helping more citizens."
Meet this week's Personality and affordable housing advocate, Lawrence D. "Larry" Wilder Jr.:
Community involvement: Chair of the board of directors of the Southside Community Development and Housing Corp.
Occupation: Adviser for social entrepreneurship and innovation to Virginia's secretary of commerce and trade.
Date and place of birth: Feb. 17 in Richmond.
Current residence: South Side Richmond.
Education: Bachelor's in economics, University of Virginia; juris doctorate, U.Va. School of Law; and MBA, University of Southern California.
Family: Single with no children.
Southside Community Development and Housing Corp.'s mission: To develop quality residential and commercial projects, and provide supportive resources, services and programs, throughout the Central Virginia region.
No. 1 program today: Development of single-family homes.
SCDHC's top challenge: In a word, it's sustainability. The Virginia Community Development Corporation's Nonprofit Sustainability Challenge is part of the solution. Through this program, SCDHC identifies major performance improvements with related quantifiable results. SCDHC is looking to generate more flexible funding through fee-based services that enable it to build its management infrastructure in addition to — and in support of — delivering programs.
Status of affordable housing in area: Affordable housing has become central to community development as housing cost burdens have become more widespread and begun to affect both community resilience and economic development.
How housing market has changed over the past few years: The aftermath of the housing bubble collapse and the Great Recession led to an economic environment characterized by slow growth, eroded household net worth, strict lending standards and tight credit.
No. 1 budgetary challenge in this economy: It's an issue of employment and income. If you are making less than 30 percent of the area median family income, it's difficult to build anything affordable.
How I start the day: Remembering "the four agreements" from the book by that name by Don Miguel Ruiz:
Be impeccable with your word.

Don't take anything personally.

Don't make assumptions.

Always do your best.
A perfect day for me is: Adhering to "the four agreements."
A favorite Richmond gem is: The Virginia Capital Trail — the Cap2Cap Trail.

If I had more time, I would: Travel, specifically, take a trip around the world.
Something I love to do that most people would never imagine: Cycling. I love getting out on my bike.
Kindergarten taught me: Heartbreak. I had quite the crush on my teacher, and when she moved to another state, I was inconsolable.
A quote that I am inspired by is: "... Ignorance allied with power is the most ferocious enemy justice can have." — James Baldwin.
My friends describe me as: "Eccentric" would be a charitable way to sum up their descriptions.
A way that I find to unwind is: Writing satiric faux news pieces. I don't do it for public consumption but to express thoughts while amusing myself. Otherwise, I might binge on YouTube to see videos that have no redeeming value other than I find them hilarious.
The top of my "to do" list is: Completing the century bike ride on the Cap2Cap Trail (100 miles from Richmond to Williamsburg and back to Richmond).
The persons who influenced me the most: My mother and father. I reflect how differing and sometimes opposite or contrary influences are actually complementary, interconnected and interdependent.
Book that influenced me the most: "Notebooks for an Ethics" by Jean-Paul Sartre.
What I'm reading now: "Political Fictions" by Joan Didion and "The Startup Checklist" by David S. Rose.
Next goal: To create a business accelerator dedicated to supporting social entrepreneurs, particularly those of color, who are creating a product, service or technology that improves lives in measurable ways in addition to providing a return on investment. It would support entrepreneurs by surrounding them with the right access to resources, mentors, business fundamentals, community partners, capital sources — anything they need to succeed.