Lessons of love from dad
6/16/2017, 12:38 p.m.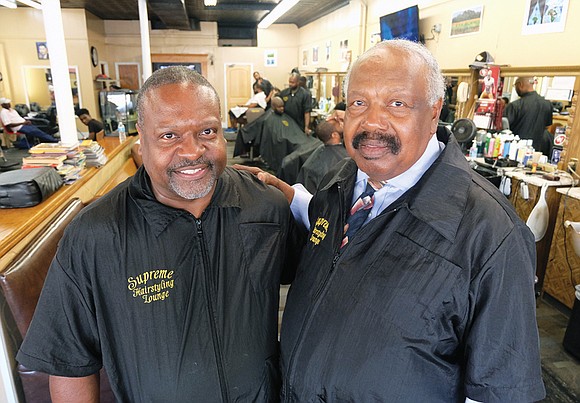 By Leah Hobbs
A father often hopes that his son will one day follow in his footsteps.
And a son often dreams to fill his father's shoes.
Clarence Oliver Sr. and his son, Clarence Oliver Jr., who everyone calls "Ollie," have accomplished just that.
Mr. Oliver is the owner of Supreme Hairstyling Lounge on 1st Street in Jackson Ward. Ollie works with him as a barber in the family business.
Mr. Oliver said that his son earned his college degree in architecture, but has been in the barber shop with him ever since graduating. Ollie recalls seeing his father get up in the morning to go to work. It inspired him, he said.
"The work ethic rubbed off on me," Ollie said in a recent interview at the shop. "As I was growing up, I didn't have jobs like other kids had, like fast food. I always cut hair around the neighborhood. It sort of snowballed."
Ollie said he realized that he could control his own destiny as an entrepreneur and business owner, as opposed to working for someone.
"I like being able to create my own way more so than having to beg someone for a job," he said. "Over the years, I've watched friends lose jobs in corporate America. That was another thing that kept me grounded here — working for myself in the family business."
Mr. Oliver has been in the business for 42 years. He also owns two other Supreme shops located on East Grace Street that cater to women.
"I worked until I got enough money to open up the first one, and then I bought two buildings on Grace Street and opened up the other two," Mr. Oliver said.
The barber shop is especially busy on Saturdays. Men and young boys fill the chairs to get a fresh cut, while bonding over the latest sports chat.
"It's a men's country club so to speak," Ollie said. "The barber shop was here before social media. We bounce things off of each other. It's OK to disagree, but everything is constructive."
The Olivers have found great success in the Richmond community, with Supreme Hairstyling a neighborhood staple.
"We've been here since 1976," in the same location, Ollie said. "As far as advertising or marketing, we don't have the same issues as a lot of people starting off. If you have four and five generations of people coming to one location — and they have been — word of mouth is a good thing."
As the shop has become an anchor in the community, so has Mr. Oliver.
"I see a lot of people in the community look up to him as a positive person," Ollie said. "He's a person in the community that they say they respect. He's a stand up guy."
Mr. Oliver has two other children. His daughter, LaGora Brooks, is a pediatrician in Virginia Beach. His other son, Victor Oliver, is a principal in Henrico County.
He said he always tried to teach his children to be successful in whatever they do. He said he hopes they will pass the lessons of success on to his five grandchildren.